Trip Overview
Enjoy the excellent trails in and around the beautiful colonial town of Antigua, Guatemala. There is plenty of singletrack surrounding the city that will take us through coffee fields and down the sides of volcanoes. 
On this trip, we will ride the exclusive downhill mountain bike trails at El Zur, some of the only purpose built mountain bike trails in Guatemala. 
We will also travel to Lake Atitlan for more riding, big views and a stay at Casa del Mundo (with one of our trip highlights of a wood fired hot tub right on the lake!). 
Fitness level:  ● ● ● ○ ○
Skill level:  ● ● ● ○ ○
2023 Guatemala Trip Dates 
October 14-20, 2023
*This trip is with Brice Shirbach. Click on the dates to get more info!*
November 19-25, 2023
December 9-15, 2023 
2024 Guatemala Trip Dates 
January 14-21, 2024- *This is our flagship Travesia trip! Our normal itinerary plus an additional community ride with 60+ women as seen in Libertad*
March 10-16, 2024 
*This trip is led by ambassador Gabriela Hydle*
October 20-26, 2024
November 10-16, 2024
December 8-14, 2024
Don't see a date that works for you? Contact us for custom trip dates!
Price – $1,895
Book more than 90 days in advance and save $200 off the trip price.
$300 non-refundable deposit is required to hold your spot
*Deposits are non-refundable and can be put toward any other World Ride trip in the future.
The remainder of the cost of the trip is due 60 days prior to the start of the trip and can be made in payments. Trips require a minimum of 4 people in order to run.
Unless otherwise noted, our trips are co-ed. Here is why that is important to us. 
We can make any trip a private group trip for an additional $100-250/per person, depending on the size of the group. Please reach out to [email protected] to book a private trip. 
Fundraise for your trip! We can set up a personalized fundraising page for you. We offer $100 off your trip costs for every $1000 that you raise, up to the cost of the trip. 
Invite your friends to join you as well!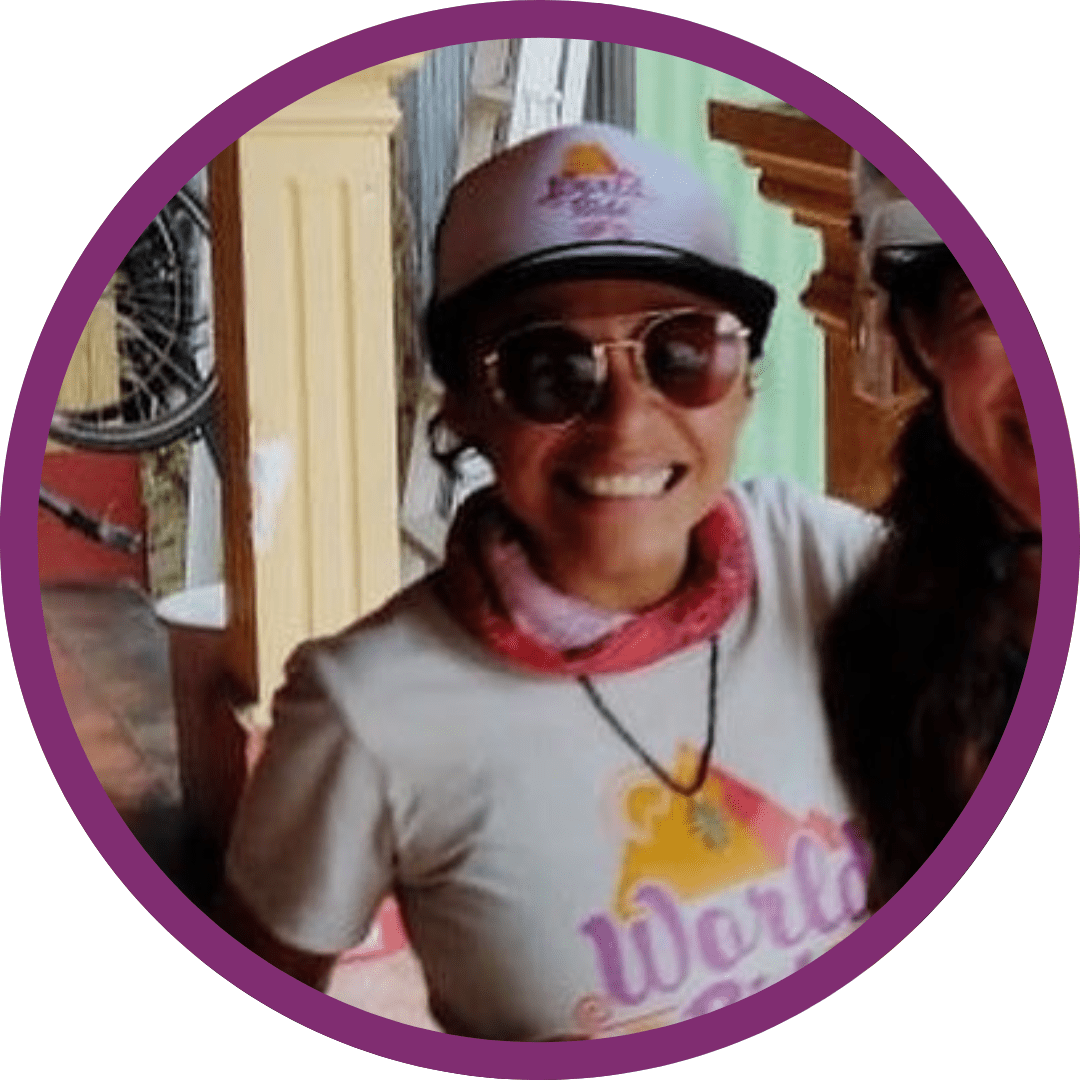 Meet Your Local Guide: Christa Castillo
Christa had been curious about mountain biking while working as a volcano hiking guide for Antigua, Guatemala based Old Town Outfitters. After World Ride started their program in Guatemala, she got asked to be the first female mountain bike guide. She immediately fell in love with the bike and now works guiding mountain biking and hiking. She also organizes a weekly group ride of local Guatemalan women with her group Aventurandose con la Christa. Some of the rides now have 25-30 women!
She loves the way she can connect with herself and nature through mountain biking. She has also climbed 21 volcanoes throughout Guatemala and loves poetry, reading, jazz, Ayurveda and any type of adventure.

Day 1
Arrive in Guatemala City and take jump on one of our shuttles (two offered on this day) to the colorful city of Antigua, about an hour away. Relax at our hotel or take in the sites and sounds of the city. Today is a good day to visit the artisan markets or visit the Santa Catalina Arch. The local mechanics can also help you get your bike built up and ready to ride. 
Day 2
After breakfast, we will get picked up to drive to El Zur, one of Guatemala's only purpose built trail systems, which we have exclusive access to. Take in the sites along the way and see if you can spot Fuego volcano errupting in the distance. Once we arrive at El Zur, we will load up in our 4×4 shuttles to take us to the top of the trails. We will then enjoy miles of flowing singletrack through tropical forests, sure to make you grin the entire way down. 
Day 3
Today will showcase local trails in the Panchoy valley with big descents and even bigger volcano views! After a quick shuttle ride out of Antigua to a nearby ridge, we'll begin our first descent from Hobbitenango. This ride has big views back over the valley as the trail winds its way through a couple cool ravines and old growth forests and traverses above town. A fun rowdy descent flows its way all the way back down to the valley floor. The next ride starts with a few kms of climbing on horse trail which then turns to ridgeline trail with big views back to Antigua and the valley's 3 volcanoes. The trail will drop us back in Antigua with an evening to enjoy the town. 
Day 4
On our third day of riding, we drive from Antigua to the Mayan ruins of Iximche near Tecpan to start the day's ride.  This is a backcountry epic ride with a little bit of everything. A nice gradual dirt road climb out of Tecpan quickly turns to trail and winds its way through the pine clad mountains. There are various technical trail drops as well as a couple tough steep climbs. The ride takes us through a backcountry Mayan settlement before dropping the famous "sendero de las vacas" or the trail of the cows (a steep chute-like descent). There is a 4 km climb up to the viewpoint above Lake Atitlan where we have lunch and take in the views. After lunch we hit the famous Santa Cat trail that and drops on amazing contouring trail to the Santa Catarina village staircase run. We'll finish off the day in Panajachel and you'll have the night free to enjoy town.
Day 5
Today we have two options for the group. For those that want to keep pedaling we have plenty more trails ready to go! If you prefer to stay back to relax on Lake Atitlan and visit a local women's weaving co-op, that works too. We will all enjoy breakfast at the hotel and then the riding group will meet the shuttle to ride back up the mountain to Las Trampas. For those that decide to take a break from the bikes, the hotel has pool access which you can enjoy and then in the afternoon go for a visit to the weaving co-op and then finish up at Hotel Casa del Mundo.
Riding: We will arrive to the trailhead of Slickrock, a wicked point-to-point ride that will take us to a picnic lunch rest stop. This is one of our favorite rides out at Lake Atitlan! It is a technical beast but well worth the effort. We'll start with a few kms of climbing on a mix of singletrack, jeep track and dirt road to the highspot at about 3000 mts. From there the trail starts to drop fast and steep to the upper madre vieja river valley. Working our way along the lush river valley bottom we get to our next long climb. This one is a rough jeep track climb up and out of the river valley to our awaiting support vehicle and lunch. After a delicious, healthy and fresh lunch we'll hop back on the bikes and finish up the descent down into town on a stretch of tight steep trail that switch backs its way to the road just above Panajachel. This is a unique ride with lots of variation to keep you happy! Then we hop in a boat and transfer to our lakeside hotel which is accessed by boat only, Hotel Casa Del Mundo. Enjoy sunset while relaxing in the wood fired hot tub right next to the lake. 
Day 6
We will enjoy breakfast and a relaxing morning at Casa del Mundo with plenty of time for a swim or hammock time. Around 11AM, we'll catch the boat back to Panjachel. From here will jump in the the private shuttle back to Antigua. Once arriving to Antigua, we'll meet up with a local farm from De La Gente coffee for an insider look into local production and a full tasting.
We'll finish up in Antigua for a farewell dinner and drinks to cap off a great week!
Day 7
Enjoy breakfast at the hotel and then your departure shuttle to the airport will depend your flight time. We will leave Antigua approximately 3 hours prior to your departure to allow for travel and check-in.
*Itinerary is subject to change.
Beautiful and comfortable accommodations in the heart of Antigua- walk to the main square and all of the sites.
A night at the gem of a hotel on Lake Atitlan- La Casa del Mundo. This hotel sits right on the water and features fantastic accommodations, delicious food and a wood fired hot tub.
All breakfasts, lunches and dinners at restaurants hand picked by our local crew to get the best meals and experiences.
Airport pickup (two shuttle times available). Our crew will transport you from Guatemala City and drive you to Antigua to start your adventure.
Professional local guides that know the trails and have an excellent knowledge of the local culture and traditions.
Support on the trails with a vehicle, trailside lunches, snacks, and clean drinking water.
Guide gratuity is include. If you really enjoy your trip,  you are welcome to add on a bonus for your guide
Pricing is based off 4 or more people. Please get in touch if you are interested in a private trip with less than this number.
Cost does not include airfare, souvenirs, alcoholic beverages, travel insurance or rental bike.
Rental bikes are very limited. For this trip, we highly recommend that you bring your own bike! We have a lot of experience traveling with bikes, so please let us know what questions that you have. This trip is on challenging trails at and we highly recommend a full suspension bike.
Anything you need for your own bike if bringing
Derailleur hanger
Extra brake pads
Any special bike tools -Multitool, mini pump, spare tube
Bike gear
Helmet
Sunglasses 
Buff/scarf
Pack (at least 15L in size to carry layers and capacity of 3L of water)
Bike shoes
Gloves
-3-4 pairs of bikes shorts or more depending on preference. (There are laundry services at the hotel in Antigua that take a day or two to get your laundry back to you)
-3-4 jerseys
Socks
Long sleeve base layer
Waterproof rain jacket
Other gear
Warm jacket (the nights can be chilly)
Either a bike light or a headlamp
Other clothing for after ride
Comfortable shoes to hike and walk around in
Clothes to sleep in
Swimsuit
Any medication you might need
Toothbrush and other necessities
Sunscreen
Personal items
Passport
COVID-19 Vaccination card
Proof of travel insurance if you purchased it
Credit and debit cards
A small amount of cash to travel with
Camera (or just your cell phone)
Cell phone (plenty of wifi along the way)
USB Battery pack (optional- there are outlets in all of the hotels)
Electronics cords and chargers
Any extra mountain bike gear you might be able to collect for the ladies there 🙂