Hike a volcano in Guatemala… Porque no?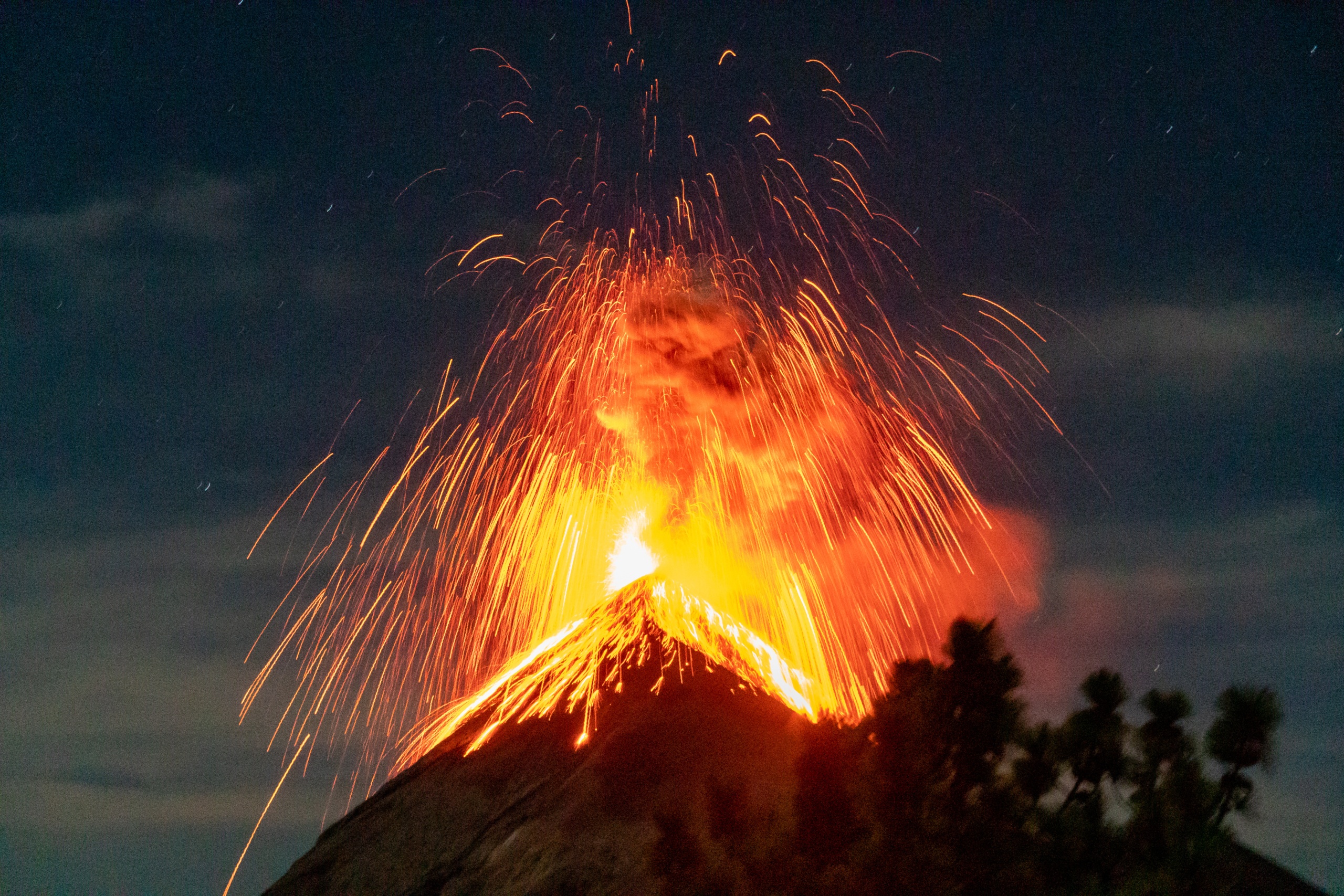 Each place that we run trips to has a plethora of other things to do besides the mountain bike rides we do (yes, believe it or not, there are other fun things besides mountain biking!). Guatemala is no exception! Our World Ride mountain bike trips in Guatemala are based in Antigua, a UNESCO World Heritage Centre that is full of colorful buildings, ruins and cobblestone streets. Surrounding the city are 4 volcanoes- Agua, Acatenango, Fuego and Pacaya. Fuego is an incredibly active volcano that you will see erupting throughout the day and night. It is especially awesome to see the bright orange lava spurting out of the top once the sun goes down from a rooftop in Antigua. It is even more amazing to see it up close and personal from a campsite close to the top of neighboring (and inactive) Acatenango. We say that because we have hiked up Acatenango and been able to witness this awe inspiring natural phenomenon ourselves! Read below to learn more about what the Acatenango hike entails, as well as another option to hike nearby Pacaya. If you are headed to Guatemala on a World Ride trip, what about staying a few extra days and add on a volcano hike? As they say in Guatemala, porque no?
Hiking Volcan Acatenango
If you are looking for the ultimate volcano experience, this is the one for you! The Acatenango hike is an overnight hike to stay at a camp below the summit of the volcano. The camp overlooks Volcan Fuego, the very active neighbor volcano that spurts plumes and lava a few times an hour. Don't worry- you are at a safe distance to watch this amazing natural spectacle!
The trip starts in Antigua where you will meet your guide at the Old Town Outfitters store. Old Town will provide a tent, sleeping pad and tent, but you will still need a backpacking style bag to carry everything up. You do have the option to hire a porter to bring your gear up if you don't want to travel with backpacking gear AND bike gear.
From Antigua, you will drive about 45 minutes to the start of the hike. The hike is a big one, so make sure to eat a good breakfast before departure. You will start off hiking through farms and homestead, and eventually make your way up to the trees. Depending on the group size and fitness, the hike can take anywhere from 4-8 hours with a lunch stop around half way.
Once at the camp, you can set up your camp and then relax as your guide prepares dinner. The camp itself sits below the summit of Acatenango (13,044 ft in elevation) and most groups ascend the final way to the summit for sunrise. When we did the trip, we had a small group (that was well adjusted to high elevations) and arrived at camp mid afternoon. We chose to summit for sunset and then watch the sunrise from camp. The final push to the summit is steep and deep sand, but well worth the views of the surrounding area and of Fuego.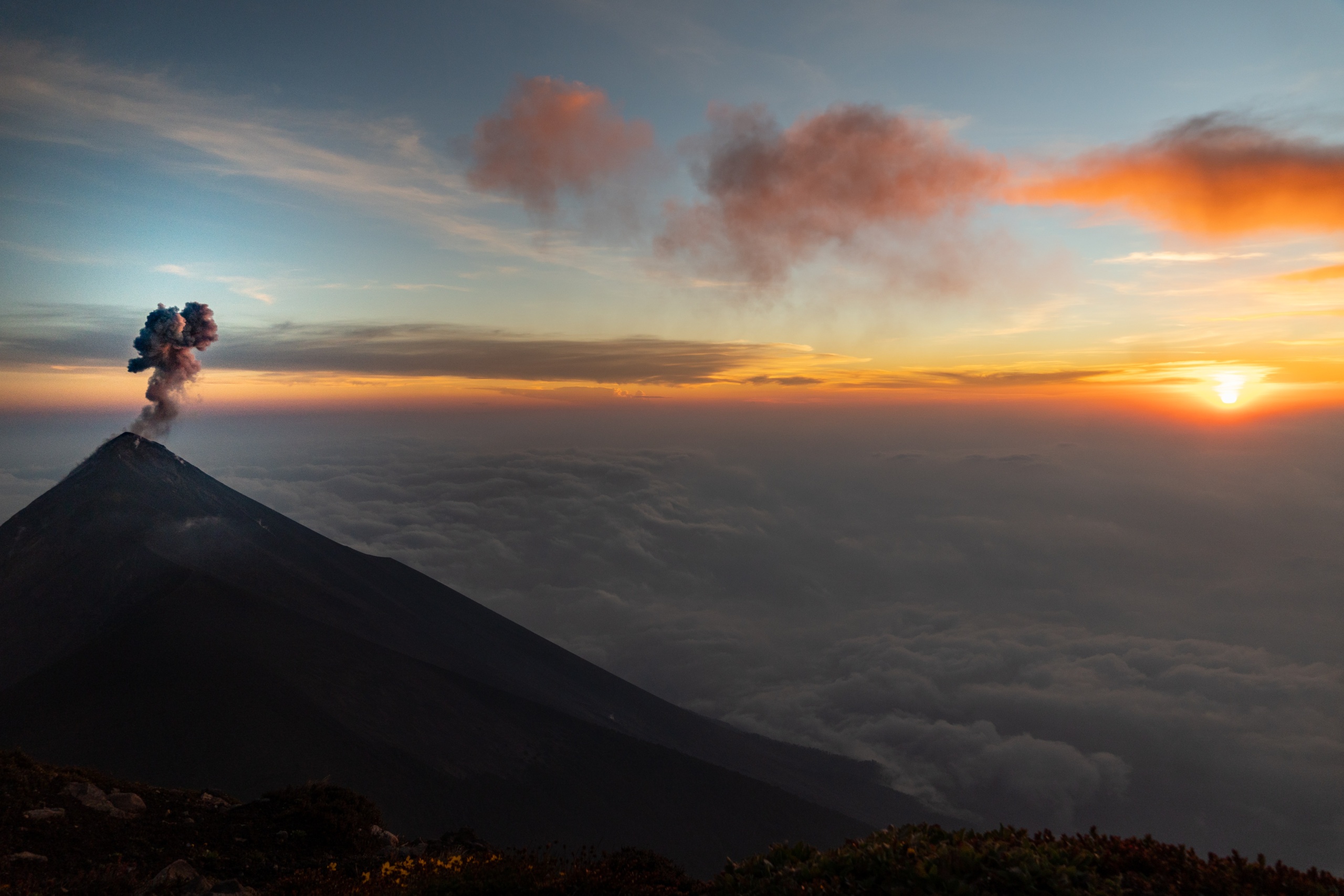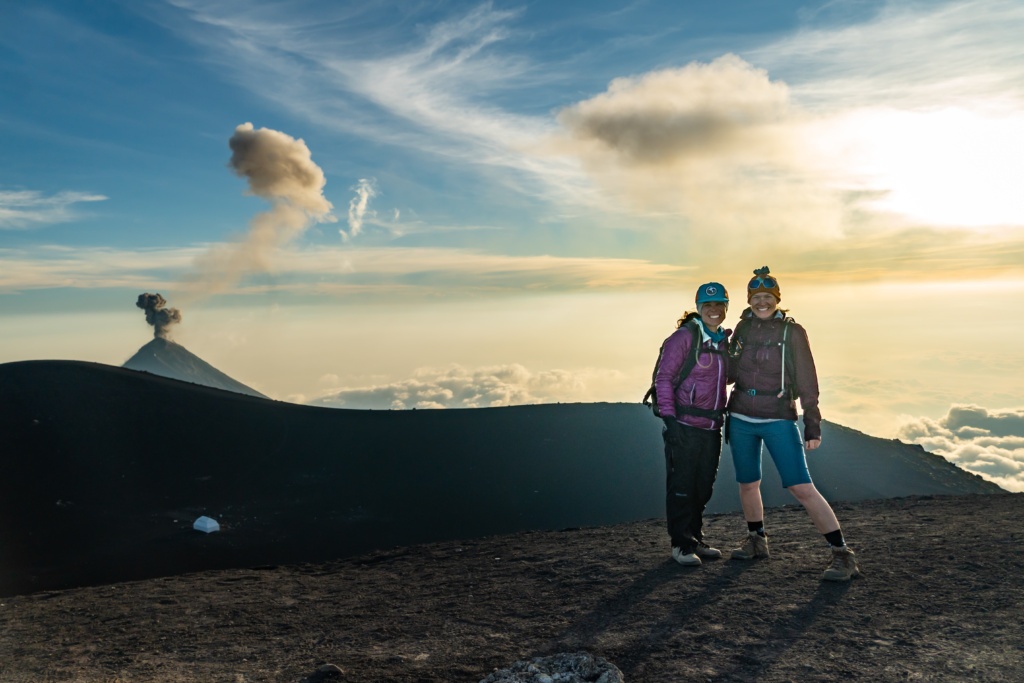 By far the highlight of the hike is sitting with fresh hot chocolate at the campsite and watching Fuego erupt after dark. Seeing this close up is one of the most amazing natural sights I have ever witnessed!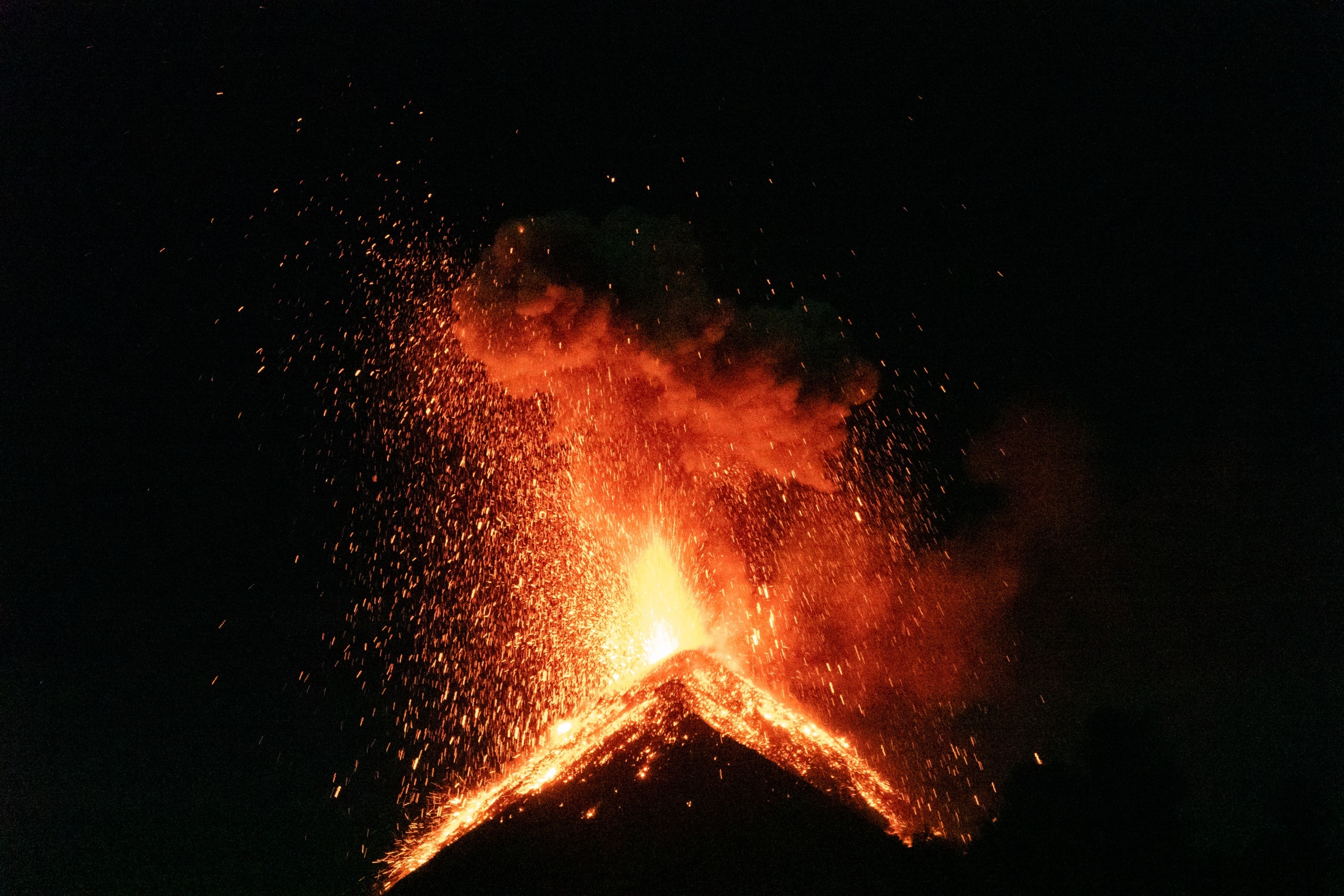 The next morning, you will summit Acatenango, return to camp for breakfast and then descent back to the trailhead. A van will be waiting to bring you back to Antigua in time for a late afternoon nap.
Hiking Volcan Pacaya
Interested in hiking a volcano but don't have 2 extra days to do Acatenango? Or maybe you are looking for something less strenuous after a week of biking? Then Volcan Pacaya is your volcano!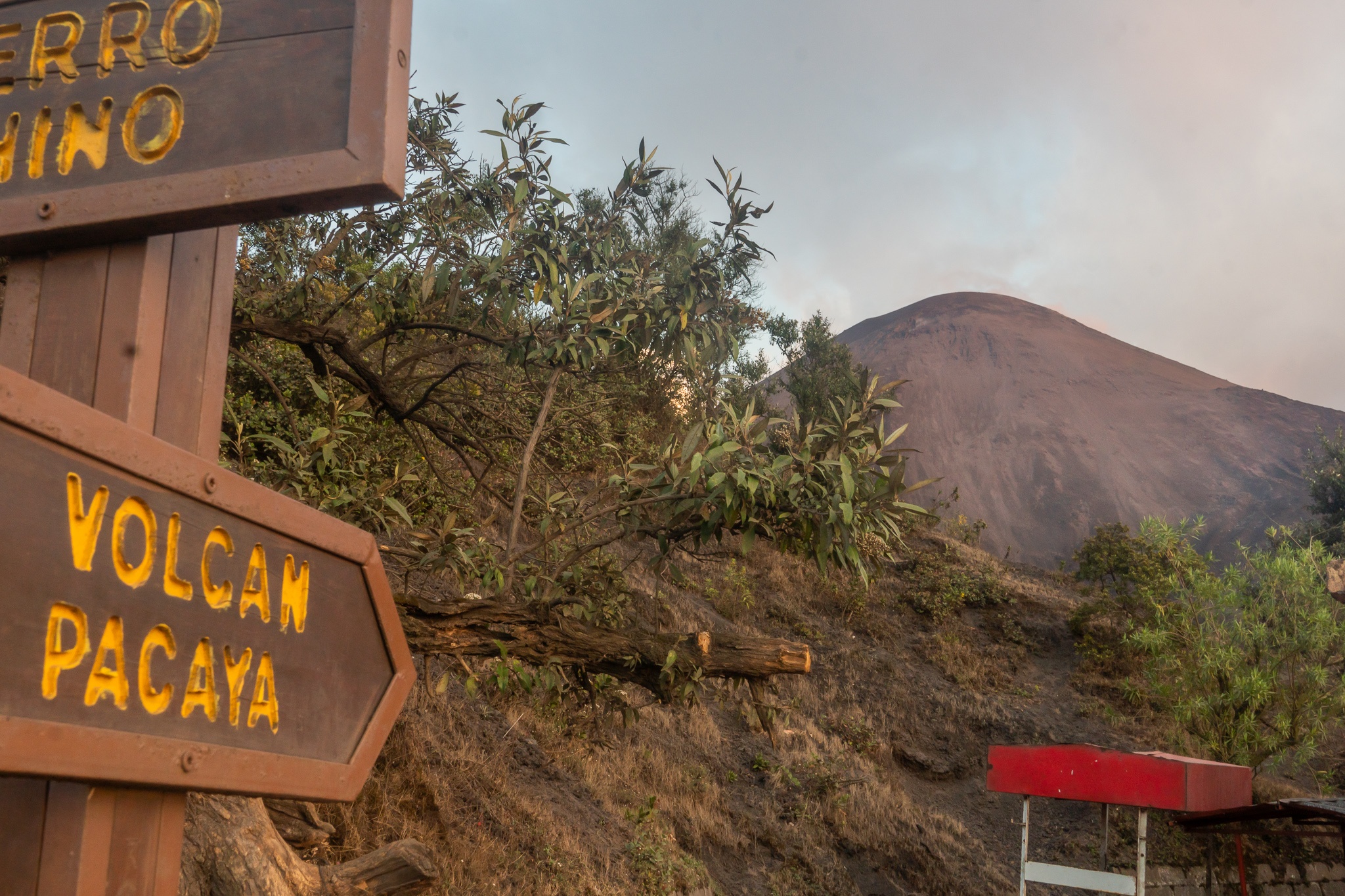 This trip again meets at Old Town Outfitters shop right in Antigua. You will hop in a van with your guide and drive a little over an hour to get to the trailhead for Pacaya.
The trail winds its way up the side of the volcano and the "top" can be reached in about an hour at a relaxed pace. Unlike Acatenango, you will not actually summit the volcano on this hike, but instead get to a nice view point where you can hike a further 15-20 minutes to dried up lava fields with steam vents that are perfect for roasting marshmallows.
S'mores with marshmallows roasted over a steam vent on a volcano? Doesn't get much better than that!
This hike can either be done for sunrise or sunset. I chose a sunset hike and after roasting marshmallows, we made our way back to the view point where our guide had prepared a picnic of tortillas, chicken, fresh guacamole and hot chocolate. We enjoyed a beautiful sunset with views of Fuego and Acatenango in the distance.
The hike down is about 20 minutes and you might want a headlamp for a sunset trip. After returning back to the trailhead, the group will return to Antigua for an evening arrival.
Some things to consider for both trips:
Either one of these hikes can be added on, so after you book your World Ride trip, let us know and we can add it on for you.
Don't forget to bring some shoes that are suited for hiking. I wore my flat pedal Five Ten mountain bike shoes for both trips, but you might want to bring a hiking boot if that's your preference.
The Acatenango overnight hike will take the better part of two days, so make sure to give yourself some extra time before or after the bike part of the trip.
Pacaya gives you a great volcano experience and you will still have a half day to explore Antigua either before or after the hike depending on if you choose sunset or sunrise.
Don't forget a cash tip for your guide(s)!