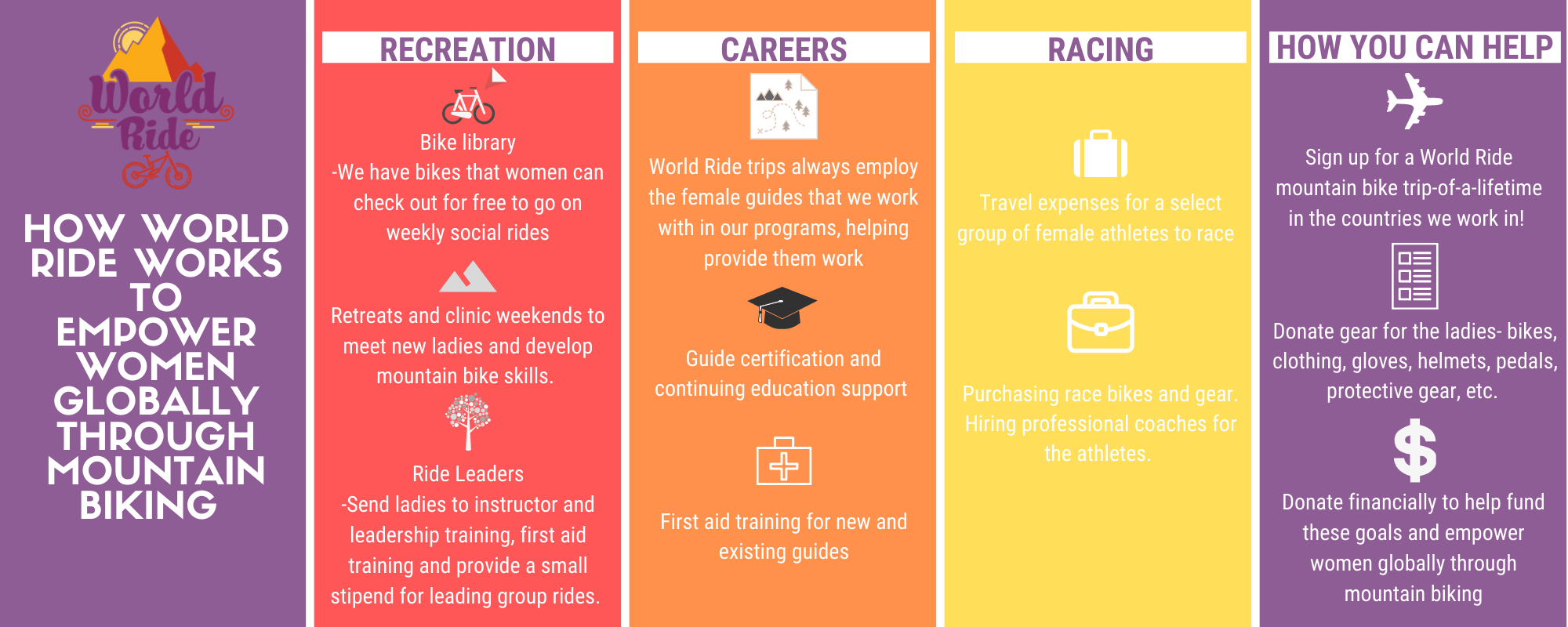 What we do
World Ride supports the empowerment of women globally through mountain biking. Donations and proceeds go toward supporting women's mountain biking in Nepal, Guatemala, Peru and Lesotho in three areas:
Recreation

Women do not traditionally have the opportunity for recreation in the outdoors. World Ride is committed to getting more women outside on mountain bikes to have FUN! Currently, we have a bike and gear library for women to use to go on recreational mountain bike rides in each location.

Careers

Mountain bike tourism is growing around the world. We support women becoming mountain bike guides in their countries through guide certifications, leadership training and first aid training. We work with local partners that employ the women that we help train.

Racing

We help to support women in their racing goals to help bring awareness to mountain biking in their countries and support these women with their competitive goals.
The story of World Ride
In March of 2017, World Ride founder Julie Cornelius traveled to Nepal for an AndShesDopeToo film Moksha, a women's mountain bike film project that evolved from Endure Nepal, a project she originally spearheaded in 2015. After two years, Julie traveled to Nepal with a team of lady mountain bikers to work with female mountain bikers in Nepal and tell their story through the film that was released in January 2018. As an extension of the original project, World Ride is committed to the long term vision of helping create opportunity for more Nepali women to begin mountain biking. Why just stop in one country when there is an opportunity to make an impact in other areas as well? World Ride has expanded is committed to the mission of empowering women globally through mountain biking.
World Ride works with local partners in each location that are committed to our mission. These partners help to recruit more women into the mountain biking community, assist in training guides and also employing certified guides. These guides have the opportunity to work year round with our partners, and they also guide all World Ride trips to their countries. These mountain bike adventure trips are an important part of our mission because they allow YOU to visit the places that we work to experience the amazing cultures and see first hand how mountain biking is making a difference in the lives of the women we work with.
We are thrilled to have expanded our mission to Guatemala in 2019 and will be adding two new locations in 2020- Peru and Lesotho! We will also be hosting movie nights in various locations around the US that feature women's mountain bike films and raffles with gear from our sponsors!
Usha Khanal
Guide/ Nepal
How did you get started mountain biking?
I started mountain biking as a fun sport. And gradually turned into hobby. However, the dream came true after being a part of the documentary movie "Moksha" only. And the guiding journey started with the help of Himalayan Single Track.
Why do you love mountain biking?
The best part about it is how it helps me to go to places and know many people around world. It's been the best means for me to be independent.
What is your favorite trail in Nepal?
My favorite trail in Nepal is the decent from Thorong La Pass and Lubra Valley from Mustang region.
 What is your favorite trip that you guide and why?
I prefer Annapurna Circuit. It's got the best view to offer and nice local people around. 
What is something interesting about you that people might not know?
Beside biking, I love to run and go trekking. Pet lover. Before I started being a biker, I was a kindergarten teacher.
Roja KC
Guide/ Nepal
How did you get started mountain biking?
I was a swimmer back then and I started mountain biking around 2016 when I saw some military guys brining mtb on a swimming session .
Why do you love mountain biking? 
I love mtb because it's freedom like nothing . You are the one to control your ability. And also because we get to know so many people of different place with different culture. It's a blessing to get to exchange culture.
What is your favorite trail in Nepal? 
I think I love every trial but most fun one is lubra valley in Jomsom - Muktinath trip . I bet most people will love this trail .
Anything else you want to share?
I just want to say that I am an ordinary girl who is into MTB and I feel really blessed to be a part of World Ride MTB . Thank you for this wonderful opportunity to let us show our countries trails and culture . I can't wait to learn more slang from my clients .
Nishma Shrestha
Guide/ Nepal
How did you get started mountain biking?
I was inspired by my dad and uncle to ride my mountain bike because my dad used to explore new places in his bike and my uncle was national racer of mountain biking.
Why do you love mountain biking?
I love riding mountain bike because It gives me a happiness and freedom to be myself. I enjoy when I am able to ride inside the forest areas. I love being in the nature and exploring new trails. I love to ride in the natural trails its really challenging and makes me want to push my limits.
Where is your favorite place in Nepal?
My favorite place to ride in Nepal is in Annapurna region and solukhumbu. The trail in those place in really thrilling and scenery is breathtaking.
What is your favorite trail in Nepal?
My favorite trails to ride are in Nagarkot because there are different varieties of trail in same place. Starting from easy flowy trail to technical trail and its all natural.
What is your favorite trip that you guide and why?
Every trip for me is my favorite because every trip, awesome people from different country joins us and we share experience, lifestyle and amazing weeks together riding and exploring trails.
Christa Castillo
Guide/ Guatemala
How did you get started mountain biking?
I started seeing other friends/guides at Old Town Outfitters riding mountain bikes and I got curious. So far I've barely started but I'm excited to start learning more about the sport and riding more.
Why do you love mountain biking?
I want to have fun in general. I love the way you can connect with yourself and nature and how you start to learn to guide your mind/body. I think mountain biking will give me more opportunities for these.
Where is your favorite place in Guatemala?
I love every part in Guatemala where I can see trees and the clear sky, but one particular spot that has changed me was the volcano Santa María.
What is your favorite trail in Guatemala?
I can't have just one favorite trail! I have climbed 21 volcanoes in Guatemala and all of them are beautiful and different, same with hills like "Cucurucho" and "Corazón del Agua". Too many to choose from.
What is something interesting about you that people might not know?
I like to take things positive even when it's a hard time that we all have sometimes, for me every moment is a lesson to learn how to enjoy life and let go what makes me down. I love poetry, books, Jazz, nature, the moon, adventure, and being independent.
Jenny Caunt
Trip Organizer, Owner, Ride Leader, Woman who does it all /Himalayan Singletrack & Ladies Mountain League
Jenny is originally from Australia, but now calls Kathmandu home. She is the owner of Himalayan Singletrack and runs the Ladies Mountain League (LML). Through LML, she has been instrumental in getting Nepali women out on mountain bikes by leading weekly group rides, organizing skills weekends and helping ladies get the gear they need to ride.
Julie Cornelius
Director/World Ride
Julie began mountain biking with a supportive crew of ladies in Tucson, AZ. She found her passion and has since combined mountain biking with her love of travel, traveling to different countries to explore by bike. In 2015, she was making plans to travel to Nepal when the devastating earthquakes struck. Julie began brainstorming ways to help and over the course of a couple of years, Moksha was made and World Ride was founded.
Sign up for a Mountain Bike Adventure
A trip of the lifetime that helps to support the World Ride mission and empower women globally.