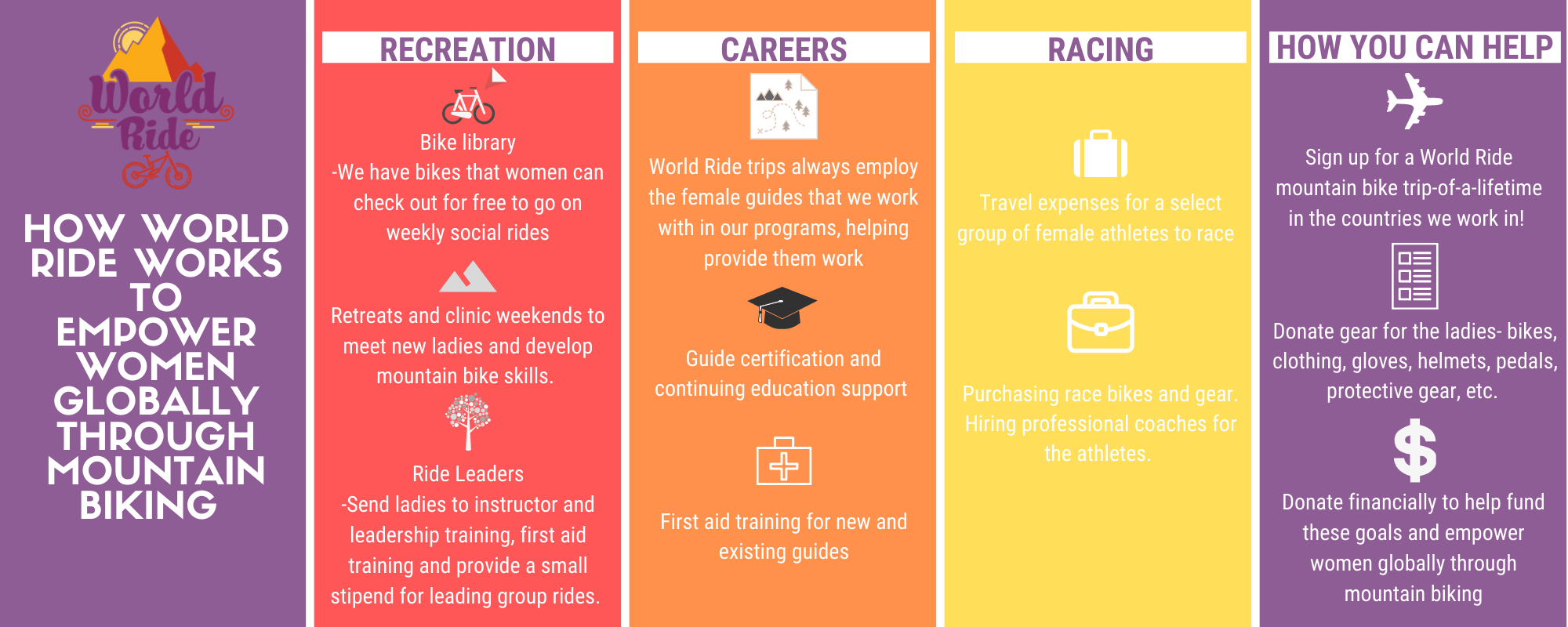 World Ride supports the empowerment of women globally through mountain biking. Donations and proceeds go toward supporting women's mountain biking in Nepal, Guatemala, Peru and Lesotho in three areas:
Recreation

Women do not traditionally have the opportunity for recreation in the outdoors. World Ride is committed to getting more women outside on mountain bikes to have FUN! Currently, we have a bike and gear library for women to use to go on recreational mountain bike rides in each location.

Careers

Mountain bike tourism is growing around the world. We support women becoming mountain bike guides in their countries through guide certifications, leadership training and first aid training. We work with local partners that employ the women that we help train.

Community

We help to support women in creating community through mountain biking. We help to bring women together in their own city and country and also work to create a network of female mountain bikers around the globe.
The story of World Ride
In March of 2017, World Ride founder Julie Cornelius traveled to Nepal for an AndShesDopeToo film Moksha, a women's mountain bike film project that evolved from Endure Nepal, a project she originally spearheaded in 2015. After two years, Julie traveled to Nepal with a team of lady mountain bikers to work with female mountain bikers in Nepal and tell their story through the film that was released in January 2018. As an extension of the original project, World Ride is committed to the long term vision of helping create opportunity for more Nepali women to begin mountain biking.
Why just stop in one country when there is an opportunity to make an impact in other areas as well? World Ride has expanded is committed to the mission of empowering women globally through mountain biking.
World Ride currently works in Nepal, Guatemala, Peru, Lesotho and Botswana.
World Ride works with local partners in each location that are committed to our mission. These partners help to recruit more women into the mountain biking community, assist in training guides and also employing certified guides. These guides have the opportunity to work year round with our partners, and they also guide all World Ride trips to their countries. These mountain bike adventure trips are an important part of our mission because they allow YOU to visit the places that we work to experience the amazing cultures and see first hand how mountain biking is making a difference in the lives of the women we work with.
Here are some notable projects that we have completed:
2018: Helped to support training of 2 female guides in Nepal, establish a bike library in Nepal, hosted trips in Nepal
2019: Purchased a full suspension bike in Nepal, hosted trips in Nepal, Established our program in Guatemala, helped to host the first ever women's only Travesia community ride event which had over 60 Guatemalan women, hosted our first trip in Guatemala
2020: Purchased 4 bikes for the bike library in Guatemala, hosted online movie nights throughout the pandemic, helped to train a female guide in Guatemala
2021: Established our program in Peru, hosted trips in Peru, Guatemala and Nepal, hosted online movie nights throughout the year, established our Ambassador Program with over 20 ambassadors from around the globe
2022: Hosted two skills clinic days in Guatemala, brought PMBIA Level 1 Instructor courses to Nepal to train 16 locals, hosted a skills clinic day in Peru on International Women's Mountain Bike Day, hosted in person movie nights in Brevard, NC and Crested Butte, CO, Began training our first guide in Peru, expanded our Ambassador Program, Partnered with Pivot Cycles, Wild Rye, DT Swiss and 10 Barrel Brewing for the Sunset Shred series across the US.