What we do
World Ride supports the empowerment of women in Nepal through mountain biking. Donations and proceeds go toward supporting women's mountain biking in Nepal in three areas:
Recreation

Women do not traditionally have the opportunity for recreation in the outdoors. The Ladies Mountain League (LML) and World Ride are committed to getting more women in Nepal outside to have FUN! Currently, LML has a bike and gear library for women to use to go on recreational mountain bike rides in and around the Kathmandu valley.

Careers

Mountain bike tourism is growing in Nepal. Two women- Usha Khanal and Roja KC became the first MBLA certified female mountain bike guides in Nepal. They currently work for our partner Himalayan Singletrack and these ladies will be guides for all World Ride trips in Nepal!

Racing

We are currently supporting female racers in Nepal to attend UCI level races around Asia, working toward the goal of qualifying for the 2020 Olympic Games in Japan.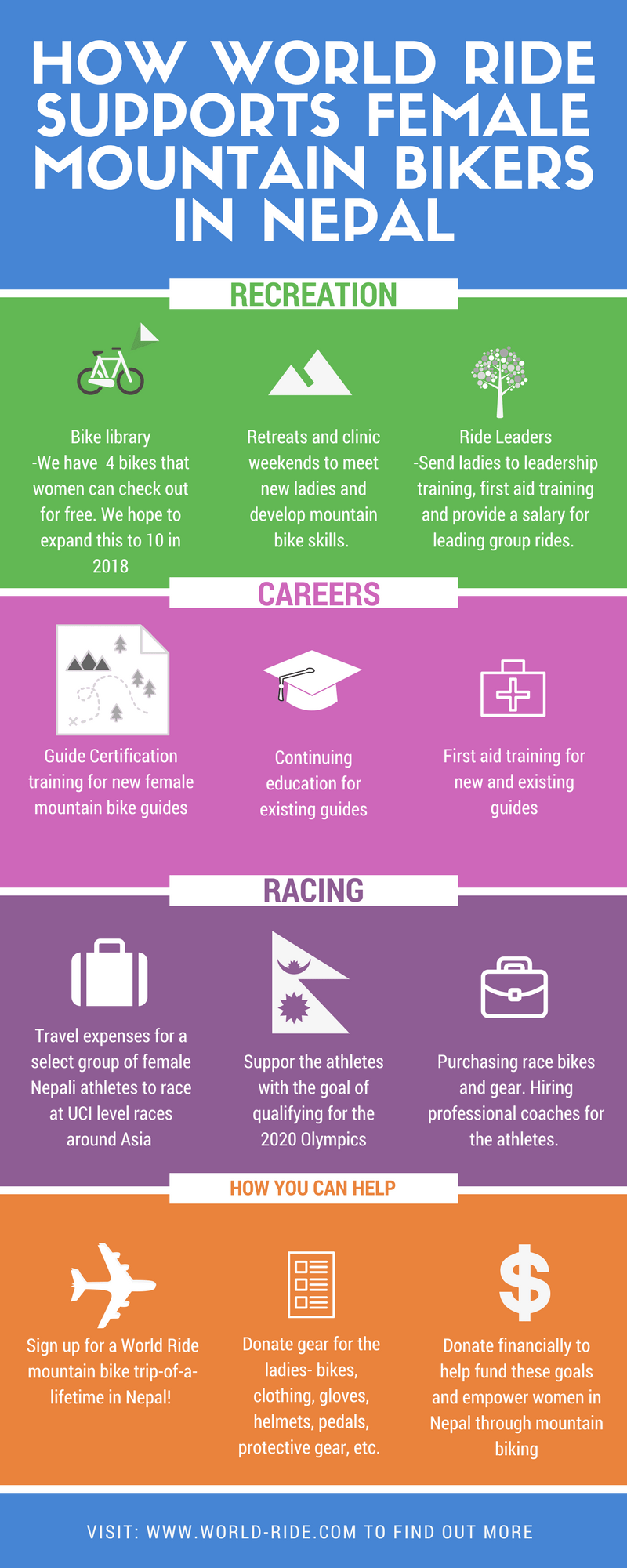 The back story
In March of 2017, Julie traveled to Nepal for an AndShesDopeToo film Moksha, a women's mountain bike film project that evolved from Endure Nepal, a project she originally spearheaded in 2015. After two years, Julie traveled to Nepal with a team of lady mountain bikers to work with female mountain bikers in Nepal and tell their story through a film to be released in January 2018. As part of the original project, Julie is committed to the long term vision of helping create opportunity for more Nepali women to begin mountain biking.
In May of 2017, two of the ladies the Moksha team worked with- Usha Knaal and Roja KC became the first female MBLA certified mountain bike guides in Nepal and now work for our partner Himalayan Singletrack!
On World Ride Nepal trips, you will be guided by two Nepal lady mountain bikers who are amazing individuals, and you will be joined on this our trip by other likeminded individuals, who will no doubt become new friends after two weeks of traveling through breathtaking scenery and sharing stories while sipping Nepali milk tea in the tea houses we will stay at along the way.
We are working closely with our partner Himalayan Singletrack, who is committed to growing women's mountain biking in Nepal. Proceeds and donations go directly to purchasing bikes and gear for ladies in Nepal. We encourage all travelers to try to bring as much extra gear as possible to be left in the country- helmets, elbow and knee pads, new or gently used mountain bike clothing, sunglasses, nutrition, etc.
Julie Cornelius
Trip Coordinator/World Ride
Julie began mountain biking with a supportive crew of ladies in Tucson, AZ. She found her passion and has since combined mountain biking with her love of travel, traveling to 10 different countries to explore by bike . In 2015, she was making plans to travel to Nepal when the devastating earthquakes struck. Julie began brainstorming ways to help and over the course of a couple of years, Moksha was made and World Ride were founded.
Jenny Caunt
The Woman Who Does It All/Himalayan Singletrack & Ladies Mountain League
Jenny is originally from Australia, but now calls Kathmandu home. She is the owner of Himalayan Singletrack and runs the Ladies Mountain League (LML). Through LML, she has been instrumental in getting Nepali women out on mountain bikes by leading weekly group rides, organizing skills weekends and helping ladies get the gear they need to ride.
Usha Khanal
Guide/ Himalayan Singletrack
Usha began mountain biking a few years ago and dove straight in. She now works full time for Himalayan Singletrack as one of the first Nepali female certified mountain bike guides. Usha also likes to race cross country mountain biking and is one of the most kind and patient people you will meet!
Roja KC
Guide/ Himalayan Singletrack
Roja began mountain biking a few years ago as part of her training in competing in triathlons. In May 2017, she became one of the first female Nepali certified mountain bike guides and now works part time as a guide. Roja has incredible energy and and a great sense of humor- both equally important qualities of a mountain bike guide!
Sign up for a Nepal Mountain Bike Adventure
A trip of the lifetime that helps to support the World Ride mission and empower women in Nepal.