Trip Overview
This classic route will take you through stunning scenery, from Besisahar at 800m to the Thorong La, a high mountain pass at 5416m and down through the lower Mustang region of Nepal, past stunning mountains and charming villages. 
The trip will be supported by porters, so you will not need to carry your overnight gear with you on your bike. Each night, you will stay in a cozy teahouse (basic lodging) in the mountains. Accommodations include a bed, a bathroom and sometimes a hot shower!
This trip is challenging with 5-6 hours of riding each day. The first few days include about 4000-5000 ft of climbing each day.  Riders should be confident in technical skills and fitness and ready to have a trip of a lifetime!
Want to read more about what you can expect on the Annapurna Circuit? Check out our blog post about World Ride director Julie's experience on a trip.
Fitness level:  ● ● ● ● ●
Skill level:  ● ● ● ○ ○
2023 Annapurna Circuit Dates 
October 25-November 7, 2023
2024 Annapurna Circuit Dates
October 20-November 2, 2024

Don't see a date that works for you? Contact us for custom trip dates!
Price – $2895
Book more than 90 days in advance and save $200 off the trip price.
$300 non-refundable deposit is required to hold your spot
*Deposits are non-refundable and can be put toward any other World Ride trip in the future.
The remainder of the cost of the trip is due 60 days prior to the start of the trip and can be made in payments. Trips require a minimum of 4 people in order to run.
Unless otherwise noted, our trips are co-ed. Here is why that is important to us. 
We can make any trip a private group trip for an additional $100-250/per person, depending on the size of the group. Please reach out to [email protected] to book a private trip. 
Fundraise for your trip! We can set up a personalized fundraising page for you. We offer $100 off your trip costs for every $1000 that you raise, up to the cost of the trip. 
Invite your friends to join you as well!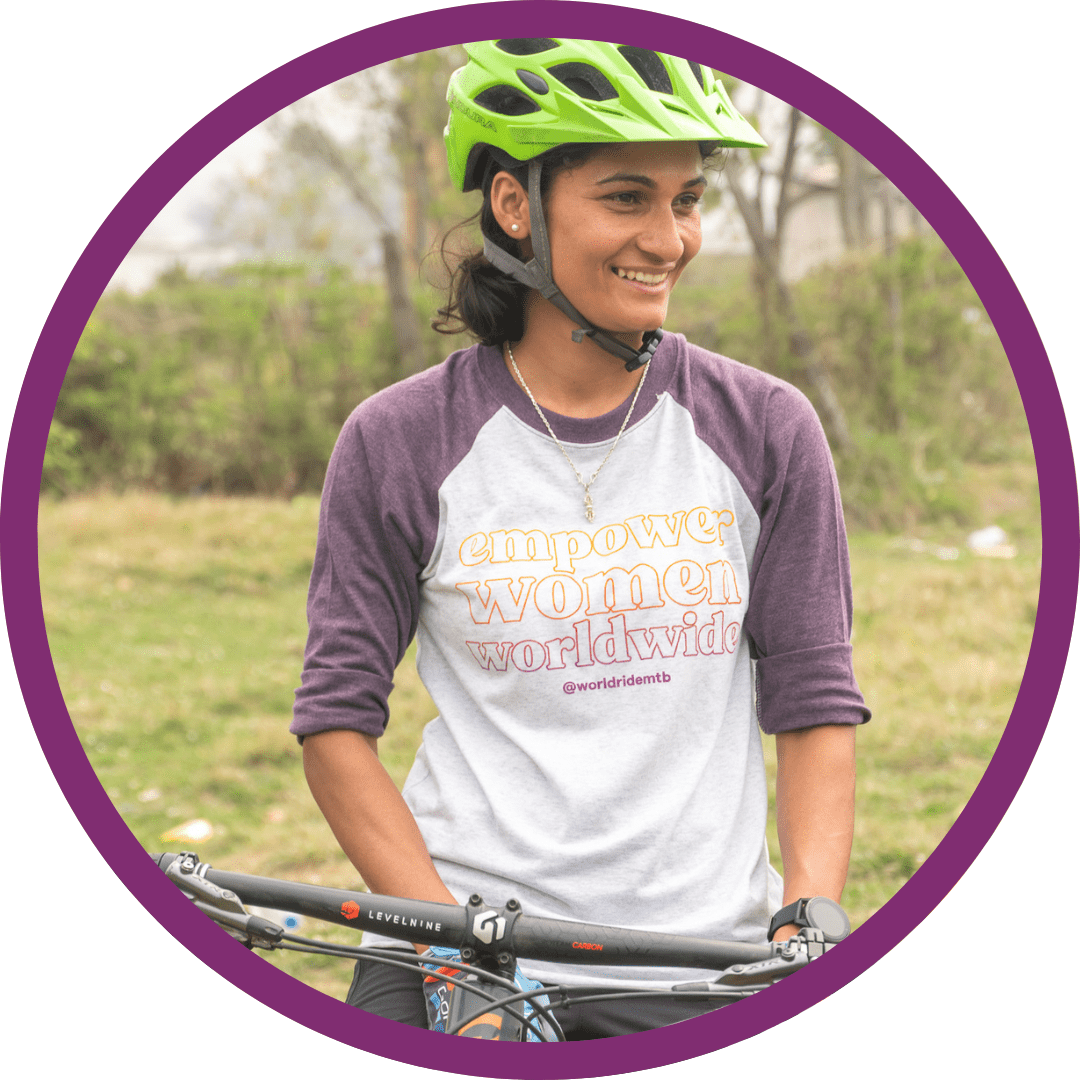 Meet Your Local Guide: Usha Khanal
Usha started mountain biking for fun and then it gradually became a bigger part of her life. Usha was featured in the film "Moksha," which was the project that kick started World Ride. She is a PMBIA Level 1 Certified mountain bike skills coach, certified MTB and trekking guide and is the Nepal 2023 Downhill and XC National Champion.
Usha's favorite thing about mountain biking is that it helps her get to beautiful places and meet many people from around the world. Her favorite trail in Nepal is the descent from Thorong La Pass and Lubra Valley- from the high point of the Annapurna Circuit down into the valley below!

Day 1
Arrival in Nepal and transfer to hotel. Your guide will be at the airport to greet you and take you to your hotel. Sleep off the jet lag and build up your bike if you have the energy! 
Accommodations: Wood Apple Hotel
Day 2
Today, we will build up our bikes and ride through the streets of Kathmandu to the foothills for a ride on Helipad trail. This ride will help you to beat the jet lag with a nice climb and fun descent through Shivapuri National Park. After the ride, we will have traditional Dal Bhat for dinner and discuss the upcoming trip. 
Accommodations: Wood Apple Hotel
Day 3
We will leave Kathmandu today and make the drive to Besisahar, our starting point for the Annapurna Circuit. Enjoy the scenery along the way as we will start to see the mighty Himalaya in the distance. 
Accommodations: Tea House
Day 4
Today we start the Annapurna Circuit! We will head out of Besisahar and begin to make our way to Taal. The ride has between 4000-5000 ft of elevation gain and takes us through magnificent scenery. We will be riding through a river valley and will spot some waterfalls along the way. 
Accommodations: Tea House
Day 5
On this day, we will continue our journey with another challenging day to Chame. The scenery begins to change as we go deeper into the mountains. Enjoy the sights and sounds of villages as we pass through. 

Accommodations: Tea House
Day 6
Today, we will make our way even further up into the mountains to the village of Manang. We may be getting tired, but we know that we have a rest and acclimatization day tomorrow!
Accommodations: Tea House
Day 7
Rest day in Manang. Sitting at just over 11,000 ft, we will spend the day adjusting to the elevation and resting our legs after three challenging days. If you choose, you can join the group in a hike to a beautiful lake just above town. Wander through the small village and enjoy a rest day well earned. 
Accommodations: Tea House
Day 8
From Manang, we will take singletrack out of the village and make our way up to Thorong Phedi. Take your time and don't push too hard because the air continues to get thinner. Arrive in Thorong Phedi, drink some tea and get ready for tomorrow's big push over the pass. 
Accommodations: Tea House
Day 9
Today is the day we will make our way over Thorong La Pass! We will start well before dark to beat any incoming wind and weather. The push to the pass is a challenging one, which only makes it that much more rewarding. Just wait until you see the prayer flags that mark the high point- it is an incredible feeling! Once we get to the pass, we will descent almost 6000 ft of amazing singletrack all the way to Muktinath. 
Accommodations: Tea House
Day 10
Our bodies should we well acclimatized after going up and over the pass. We will start the day with a short climb that will take us to one of the best descents in Nepal- Lubra Valley. This flowing singletrack is very fun and has some of the most breathtaking views! We will descend all the way to the river valley below and make our way to Tukuche to enjoy some apple brandy and apple desserts. 
Accommodations: Tea House
Day 11
We will make our way through the valley, on a combination of singletrack and jeep roads to the village of Tatopani. Here, we will enjoy soaking in some natural hot springs. 
Accommodations: Tea House
Day 12
Our last day of the ride will take us to our finishing spot of Beni. We will celebrate with a delicious lunch and then make our way to Pokhara for some lakeside relaxing. 
Accommodations: Hotel in Pokhara
Day 13
Enjoy the morning in Pokhara, a beautiful lakeside city that has many adventure options. Walk around the city, rent a boat to get out on the lake or just relax before flying back to Kathmandu. 
Accommodations: Hotel in Pokhara
Day 14
Today, we will say our "see you laters" as we depart Kathmandu. We will transport you to the airport to catch your flight home. 
*Itinerary is subject to change.
All accommodations, including comfortable hotels in Kathmandu and Pokhara and tea houses in the mountains.
Airport pickup an drop off, as well private transportation within Nepal
Flight from Pokhara back to Kathmandu
All meals on the Annapurna Circuit
Porters to carry your gear while on the Annapurna Circuit
An experienced and certified guide
Pricing is based off 4 or more people. Please get in touch if you are interested in a private trip with less than this number.
Cost does not include airfare, souvenirs, alcoholic beverages, travel insurance or rental bike.
Rental bikes are very limited. For this trip, we highly recommend that you bring your own bike! We have a lot of experience traveling with bikes, so please let us know what questions that you have. This trip is on challenging trails at and we highly recommend a full suspension bike.
Anything you need for your own bike if bringing
Derailleur hanger
Extra brake pads
Any special bike tools -Multitool, mini pump, spare tube
Bike gear
Helmet
Sunglasses 
Buff/scarf
Pack (at least 15L in size to carry layers and capacity of 3L of water)
Bike shoes
Gloves
3-4 pairs of bikes shorts or more depending on preference. (There is laundry service in Kathmandu and Pokhara and limited laundry along the Annapurna Circuit)
3-4 jerseys
Socks
Long sleeve base layer
Waterproof rain jacket and rain pants
Other gear
Warm packable jacket (the nights can be chilly)
Either a bike light or a headlamp
Other clothing for after ride
Comfortable shoes to hike and walk around in
Clothes to sleep in
Swimsuit
Any medication you might need
Toothbrush and other necessities
Sunscreen
Personal items
Passport
COVID-19 Vaccination card
Proof of travel insurance if you purchased it
Credit and debit cards
A small amount of cash to travel with
Camera (or just your cell phone)
Cell phone (plenty of wifi along the way)
USB Battery pack (optional- there are outlets in all of the hotels and some of the tea houses)
Electronics cords and chargers
Power adapter for Nepal
Any extra mountain bike gear you might be able to collect for the ladies there 🙂