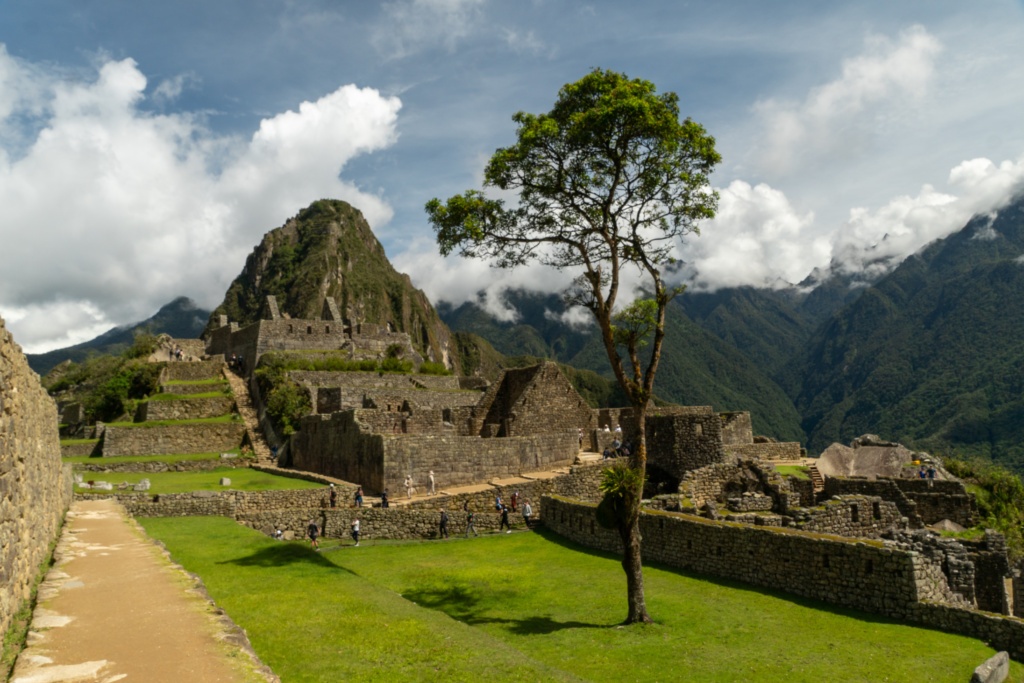 From the moment that the plane touched down in Cusco, I could feel the energy and magic that the mountains of Peru hold. It is a place I had wanted to visit since I was a kid and maybe part of the magic was that I was finally there! 
The following morning, we got picked up to head to the Sacred Valley, about a 2 hour drive from Cusco. The winding road took us past small villages and finally to our home for the rest of the week- Ollantaytambo. Nestled in the middle of one of the most beautiful valleys I have ever seen, Ollantaytambo is an ancient village full of rich culture. Our guide showed us many faces in the cliffs above the town, and told us how they are all people who passed and have chosen to rest in the Sacred Valley. Maybe it was the elevation (9160ft), but you could feel the energy and history of the place. 
We built our bikes up and shuttled up for our first ride- Pumamarca. This ride was a fun introduction to Peru- some techy trails, a bit of flow and a whole lot of amazing views!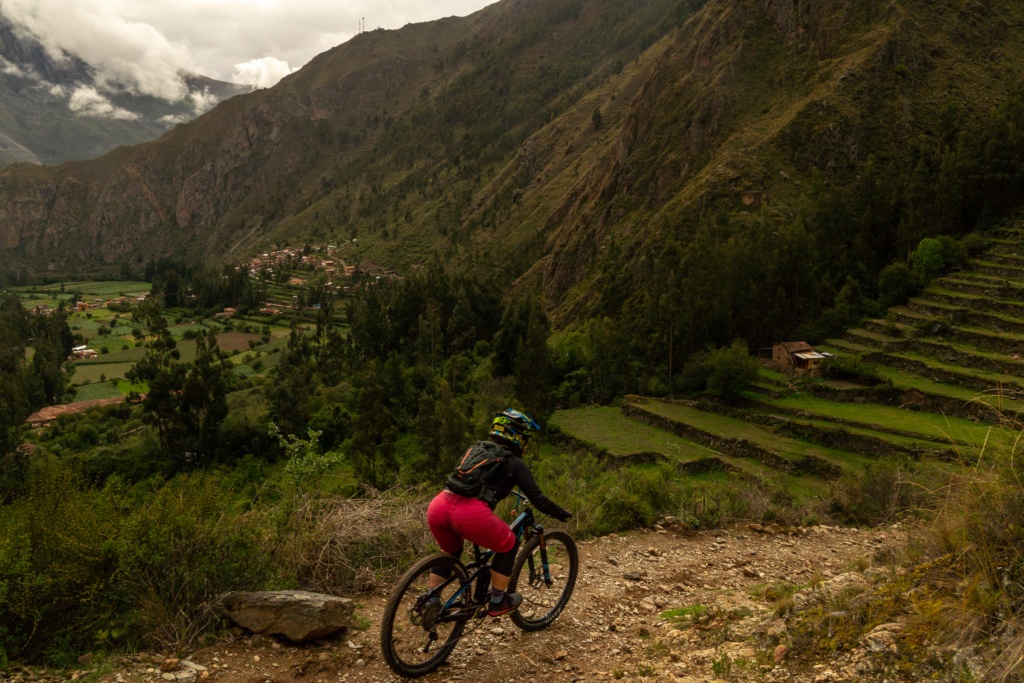 The next day, we made our way up to Moray for a few shuttled runs. The first was a mellow ride through some farms. The second was down some fun singletrack with optional jumps. On this way, we eventually made our way down to the historic salt mines of Maras. The last ride of the day was on some spectacular singletrack- some flowy trails through farm fields, past the circular ruins of Moray, and eventually to some fun, chunky trails that dropped us down to the waiting van. All in all- a very fun day of riding!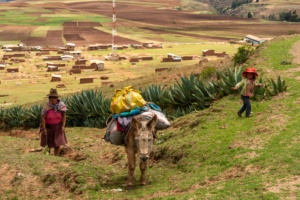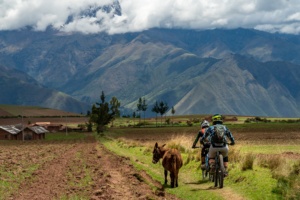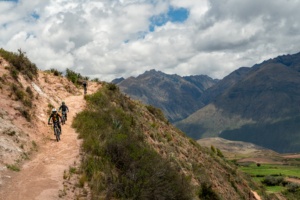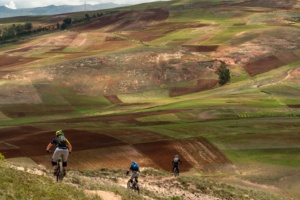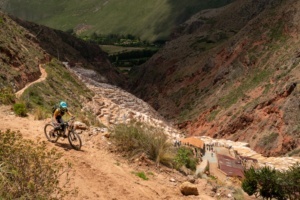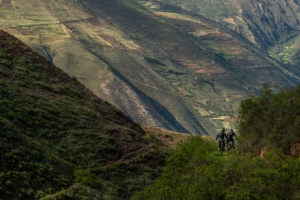 Day three took us up to do 1 and a half laps of the Inca Avalance course. We drove up, up and up past waterfalls, villages and spectacular mountains. I could feel that we were getting higher and checked the elevation app on my phone when we arrived at the start of the ride- 14,163 ft! From here, we dropped down the first half of the course on some very fun, flowy singletrack to where the van met us to drive us back up for one more time! This section of trail was just as good the second time and we continued to drop down the course. The trail got a bit more technical and steep, and took us past Incan ruins. We returned to Ollantaytambo for a well earned lunch and chicha morada.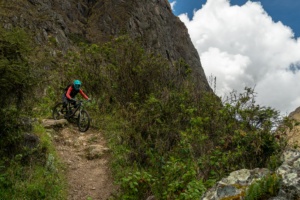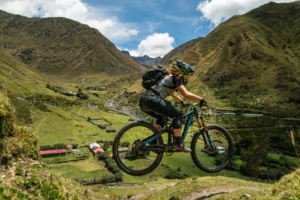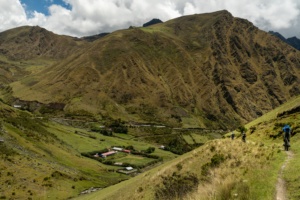 Day 4 started off at just under 14,000 ft of elevation and took us down another beautiful valley to some hot springs. We dropped our bikes with the waiting van and changed into our swim suits to soak in the hot springs. It was very much needed and appreciated after a few days of riding. After lunch, we rallied for a second ride that was very well worth it. The ride might have been my favorite of the whole trip- Colca Canyon. The trail starts off in some open fields and then drops down into the narrow canyon full of old Inca steps. Halfway through the canyon, we stopped to see some Incan tombs nestled above us walls of the canyon. Talk about a magical experience!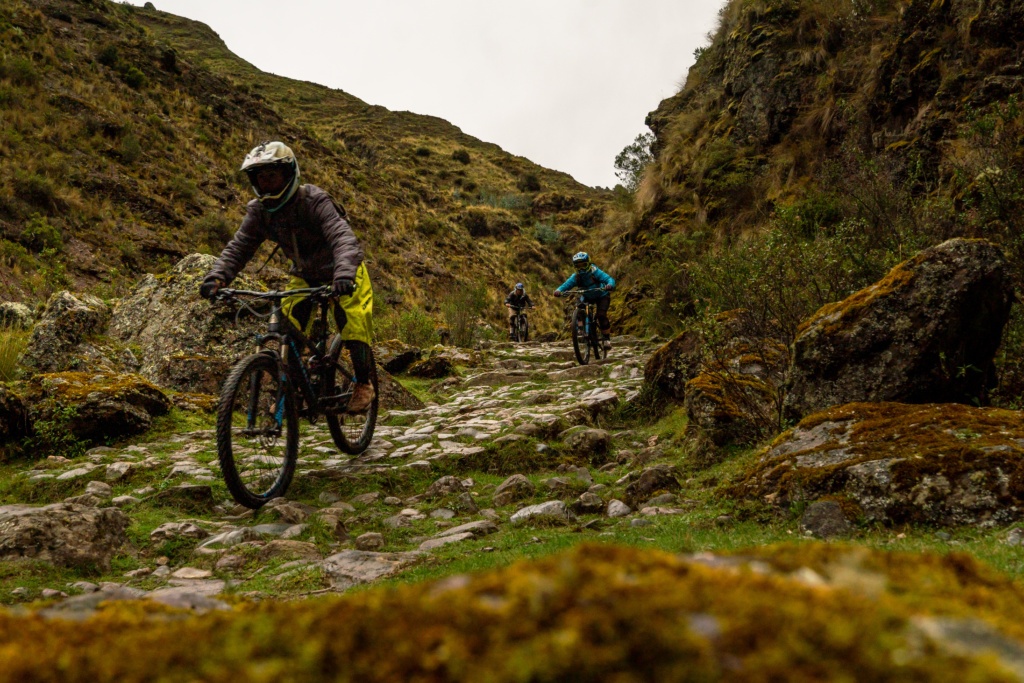 Day 5 was a day off the bike- and for very good reason. This was the day that we visited Macchu Picchu, a place I had seen pictures of and read about since I was little. Nothing could prepare me for seeing it first hand. We traveled by train from Ollantaytambo to Machu Picchu and toured the ruins. We had luckily scored permits to hike Machu Picchu mountain, a very steep, 2100 ft ascent to a fantastic view of the Machu Picchu ruins far below. The visit to this amazing site is a very worthy day off the bike.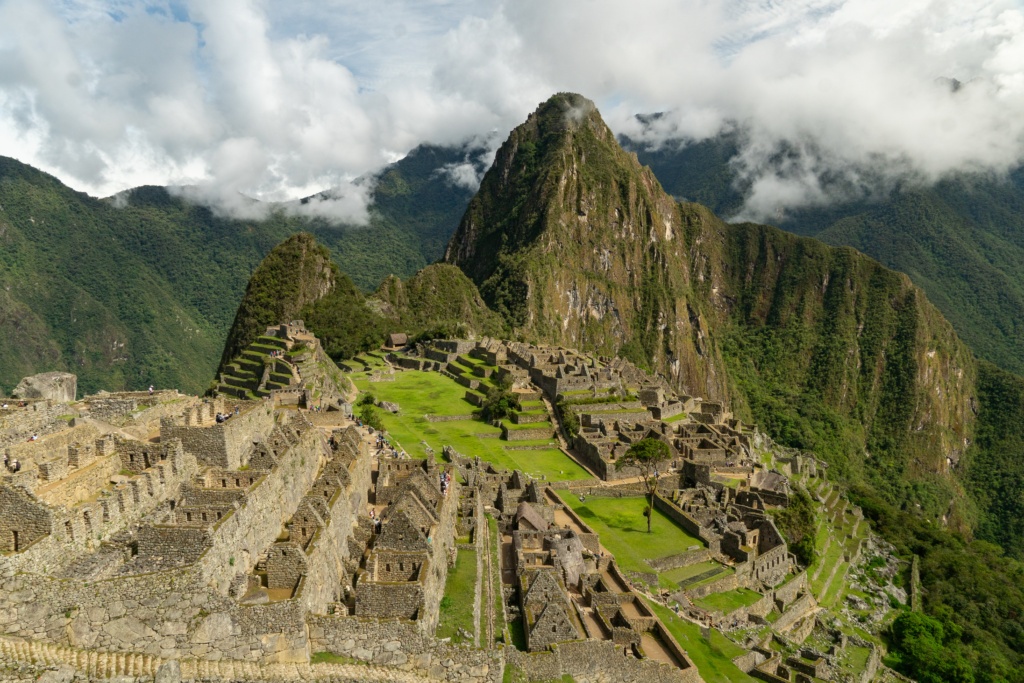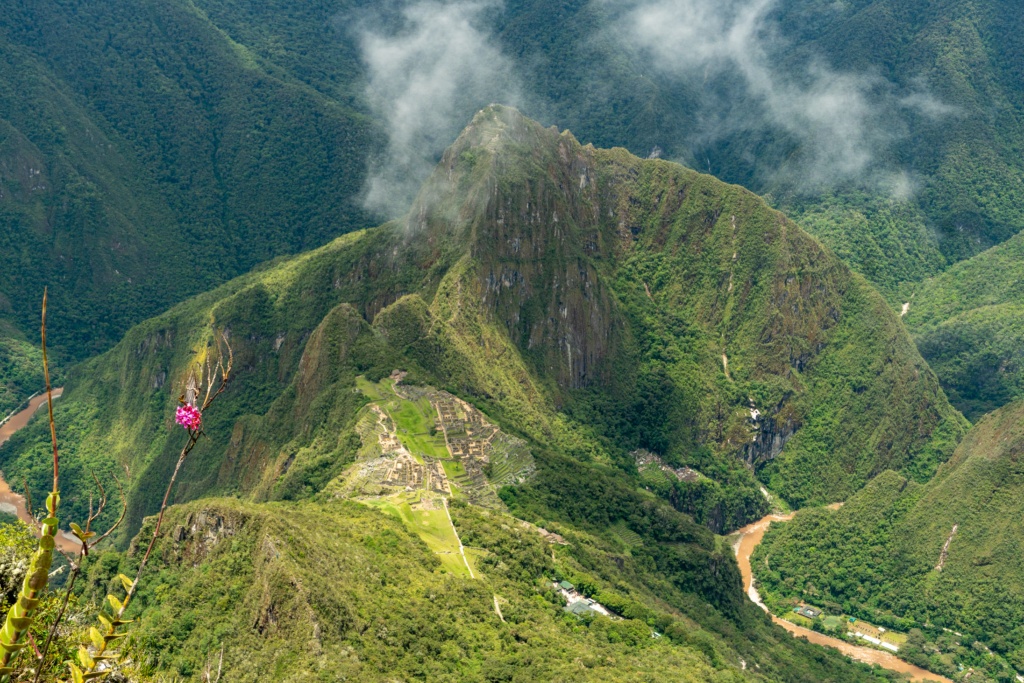 Day 6 was our final day of riding and included a visit to a local weaving co-op to see how the locals use natural plants to dye their yarns. We then hopped on our bikes for one more ride on amazing singletrack. Some flow, some technical spots with rocks and Inca steps- you really can't go wrong with the trails in Peru.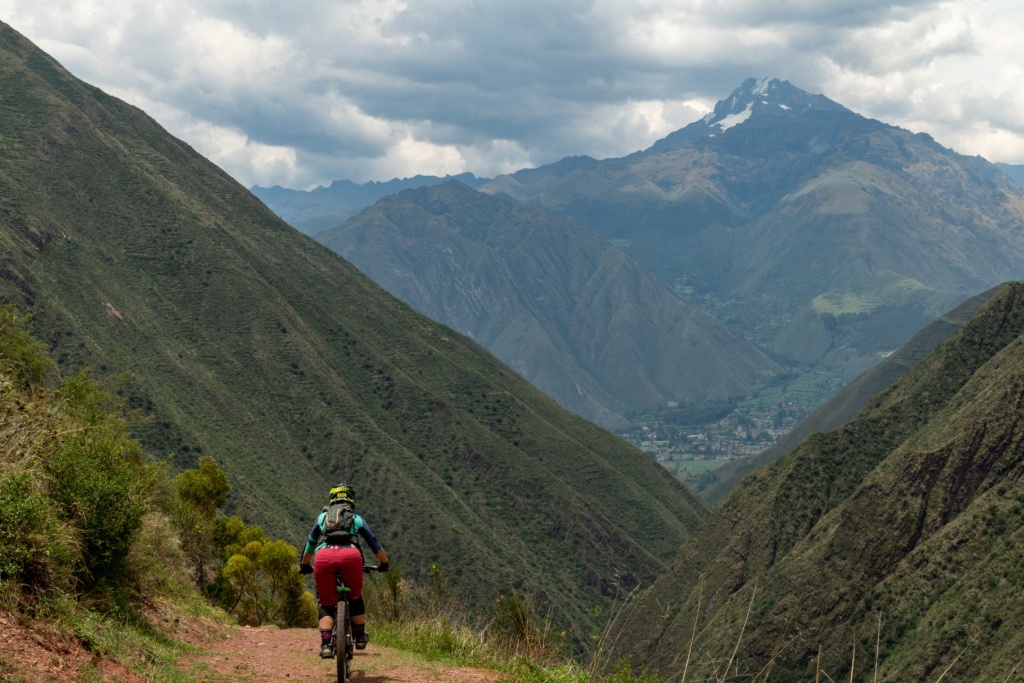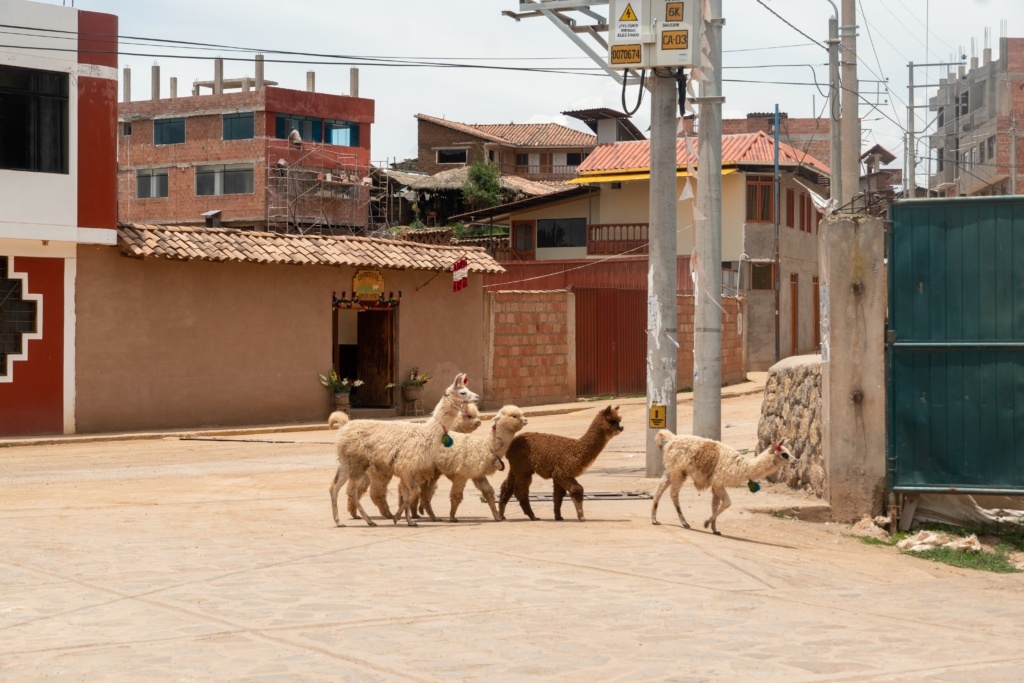 I have visited quite a few places to mountain bike around the world, but there was something different and special about Peru. It is a place that captured my heart and I can't wait to go back to ride and work with local women there to help them get to experience their beautiful country from a mountain bike. We can't wait to take all of you along as well! 
Check out our Peru trips here.
Written by World Ride Director Julie Cornelius.