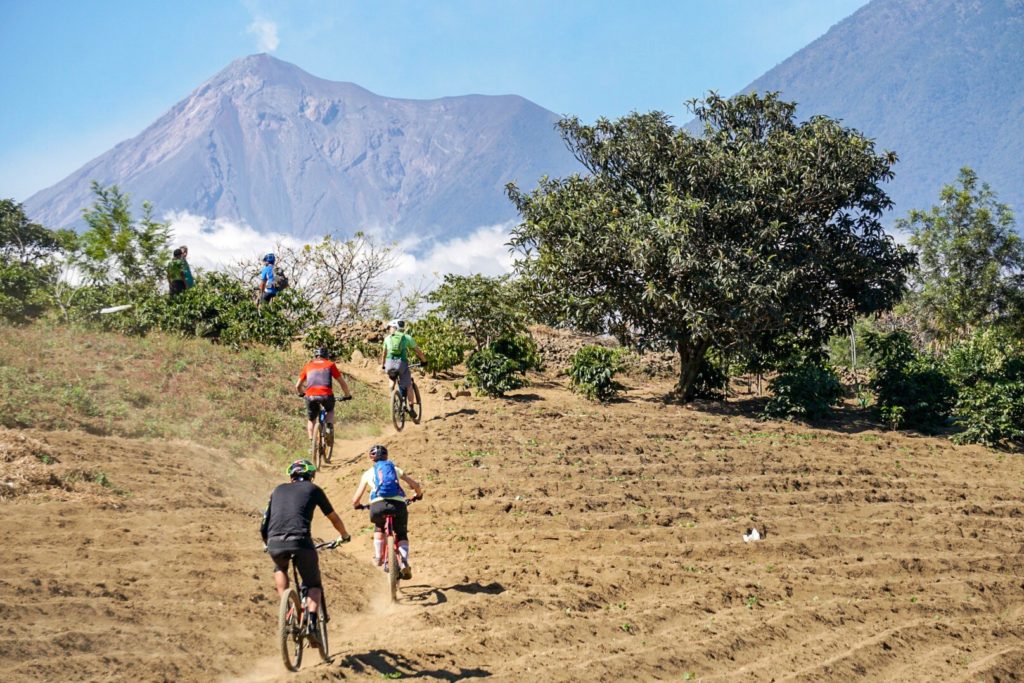 7 Day Guatemala Mountain Bike Adventure
• Enjoy the beautiful colonial town of Antigua, Guatemala
• Ride the exclusive downhill mountain bike trails at El Zur
• Ride the Lake Atitlan trails with big views and stay in Casa del Mundo
Day 1: Arrive in Guatemala City and transfer to Antigua
Day 2: Ride at El Zur Mountain Bike Park
Day 3: Antigua Shuttle Enduro Runs
Day 4: Tecpan to Atitlan Backcountry Ride
Day 5: Ride or Relax at Atitlan & Visit Women's Weaving Co-op
Day 6: Transfer Back to Antigua- Local Coffee Farmer Experience
Day 7: Departure
Cost: $1895
Book at more than 90 days out from the trip start to save $200 on your trip with early bird pricing!
Want to save money on the cost of your trip? We can set up a personalized fundraising page for you and for every $1000 you raise, we will give you $100 off the cost of your trip! Check out the details here. 
Trip includes:
Beautiful and comfortable accommodations in the heart of Antigua- walk to the main square and all of the sites.
A night at the gem of a hotel on Lake Atitlan- La Casa del Mundo. This hotel sits right on the water and features fantastic accommodations, delicious food and a wood fired hot tub.
All breakfasts, lunches and dinners at restaurants hand picked by our local crew to get the best meals and experiences.
Airport pickup (two shuttle times available). Our crew will transport you from Guatemala City and drive you to Antigua to start your adventure.
Professional local guides that know the trails and have an excellent knowledge of the local culture and traditions.
Support on the trails with a vehicle, trailside lunches, snacks, and clean drinking water.
Guide gratuity is include. If you really enjoy your trip,  you are welcome to add on a bonus for your guide.
Pricing is based off 4 or more people. Please get in touch if you are interested in a private trip with less than this number.
Sign up is open! Spots are limited, secure yours with a $295 deposit below.
Cost does not include airfare, souvenirs, alcoholic beverages, travel insurance or rental bike.
Rental bikes are available for an additional cost, please inquire about renting a bike for the trip if you do not plan to bring your own. We have a lot of experience traveling with bikes, so please let us know what questions that you have!
*Departure is guaranteed, deposit is refundable up to 90 days before trip departure, remaining balance is due 30 days before trip departure. Itinerary is subject to change.
*We are now excited to offer add on packages for Guatemala!*
Overnight Acatenango Volcano hike: $125 per person.
This hike is incredible! It is a challenging guided hike up Acatenango Volcano but well worth it when you see the close up views of the very active Fuego erupting right next door (don't worry, you are still a safe distance away). Summit Acatenango for sunset or sunrise and then descent back down to the starting point. Enjoy a campfire and fresh cooked food for each meal.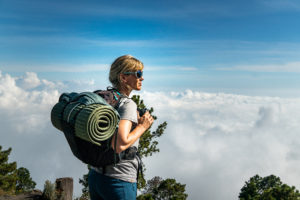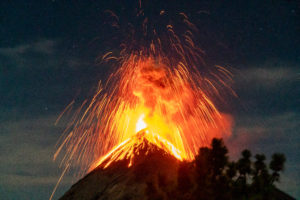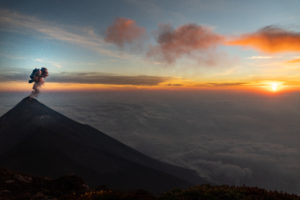 El Paredon Pacific Coast beach trip: Stay tuned for details and pricing.
Tikal Mayan Ruins 2 day trip: Fly to the northern part of Guatemala to visit the incredible Tikal Mayan ruins. Spend a night and visit the national park to fully explore the ruins with your guide. Please inquire about pricing as it is dependent on the number of people in your party.
---
DAY 1: ARRIVE GUATEMALA CITY, TRANSFER TO ANTIGUA
Arriving in Guatemala City, you will be met as you exit customs by your driver who will be holding a sign with your name. The shuttle will drive you directly to your Antigua hotel. Transport is approximately 1 hour.
Depending on your arrival time, we can head out for an afternoon ride to get your legs warmed up. The Pillars of Heaven is one of our favorite local rides that heads to the eastern mountains above the Antigua valley. It's not an all-day epic but worth its weight in gold. There are a number of ways to ride this ride and depending on how long and hard you want to ride we can suggest a route. The downhill section has some of the sweetest flow of any around and is guaranteed to leave you with an ear to ear grin!
You'll have the evening to rest up in the local hotel where there are plenty of restaurants and bars within an easy walk.
DAY 2: EL ZUR MOUNTAIN BIKE PARK - HAND BUILT BY LOCALS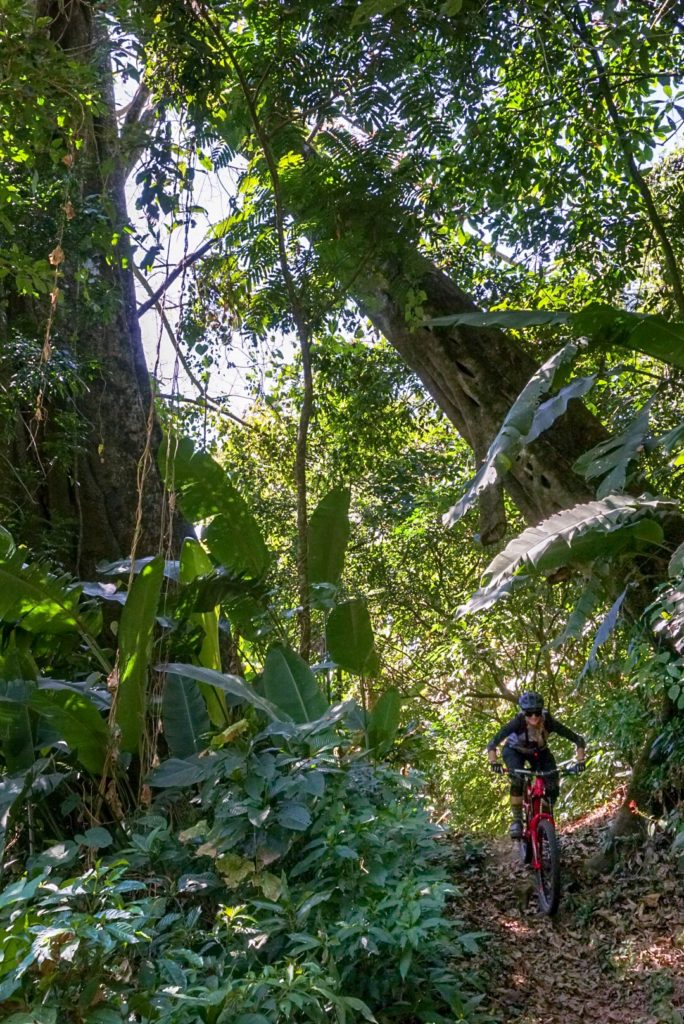 You willl enjoy breakfast at your hotel, before heading off on our next adventure.
The El Zur mountain bike park is a private reserve sitting at 8500 feet with over 25 km's of flowing, rolling, blow your mind purpose built singletrack bliss.
Need we say more?
The only of its kind in Guatemala, and we have exclusive access to it! Unless you are a landowner, you won't be dropping in on any of these private trails! We will have lunch for you on this tour.
In the afternoon you will return to Antigua and have free time to explore the town and enjoy the local scene.
Meals included: Breakfast, Lunch, Dinner
DAY 3: ANTIGUA SHUTTLE ENDURO RUNS
Today will showcase local trails in the Panchoy valley with big descents and even bigger volcano views!
After a quick shuttle ride out of Antigua to a nearby ridge, we'll begin our first descent from Hobbitenango. This ride has big views back over the valley as the trail winds its way through a couple cool ravines and old growth forests and traverses above town. A fun rowdy descent flows its way all the way back down to the valley floor.
We'll grab lunch in town and then gear up for another
shuttle run to our next trailhead. This ride starts with a few kms of climbing on horse trail which then turns to ridgeline trail with big views back to Antigua and the
valley's 3 volcanoes. Dropping off the ridge the trail turns
to a steeper more technical section with lots of
switchbacks.
We'll return back to Antigua where you'll have the night free to enjoy town.
Meals included: Breakfast, Lunch, Dinner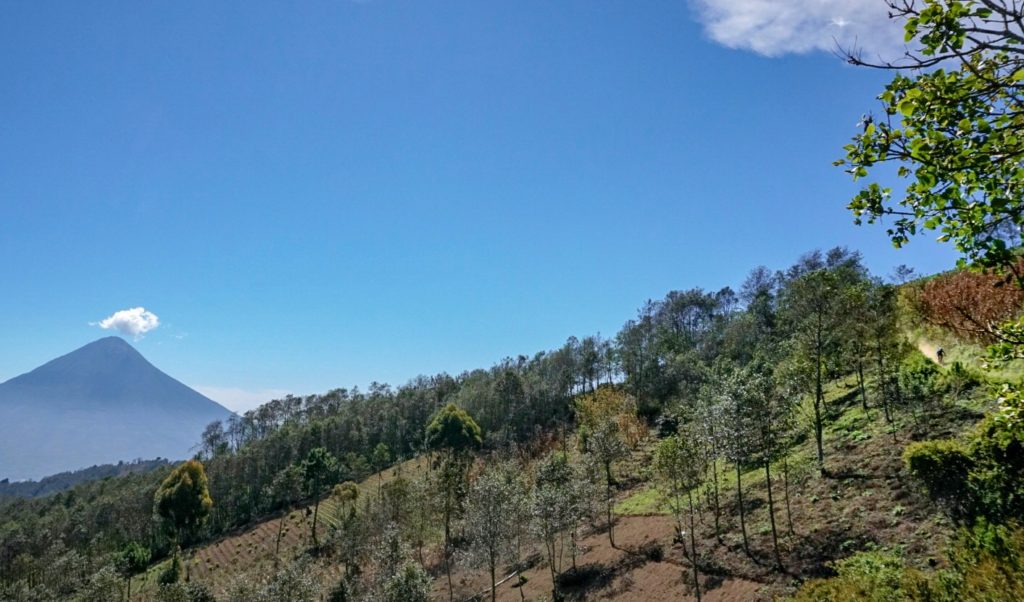 DAY 4: TECPAN TO LAKE ATITLAN BACKCOUNTRY RIDE
We'll shuttle out from Antigua to the Mayan ruins of Iximche near Tecpan to start today's ride. After a short tour of the ruins we'll hop on the bikes and start getting after it.
This is a backcountry epic ride with a little bit of everything. A nice gradual dirt road climb out of Tecpan quickly turns to trail and winds its way through the pine clad mountains.
There are various technical trail drops as well as a couple tough steep climbs. The ride takes us through a backcountry Mayan settlement before dropping the famous "sendero de las vacas" or the trail of the cows (a steep chute-like descent).
There is a 4 km climb up to the viewpoint above Lake Atitlan where we have lunch and take in the views. After lunch we hit the famous Santa Cat trail that and drops on amazing contouring trail to the Santa Catarina village staircase run. We'll finish off the day in Panajachel and you'll have the night free to enjoy town.
Meals included: Breakfast, Lunch, Dinner
DAY 5: RIDE OR RELAX AT LAKE ATITLAN & VISIT WOMEN'S WEAVING CO-OP
Today we have two options for the group. For those that want to keep pedaling we have plenty more trails ready to go! If you prefer to stay back to relax on Lake Atitlan and visit a local women's weaving co-op, that works too – no pressure either way.
We will all enjoy breakfast at the hotel and then the riding group will meet the shuttle to ride back up the mountain to Las Trampas. For those that decide to take a break from the bikes, the hotel has pool access which you can enjoy and then in the afternoon go for a visit to the weaving co-op and then finish up at Hotel Casa del Mundo.
We will arrive to the trailhead of Slickrock, a wicked point-to-point ride that will take us to a picnic lunch rest stop. This is one of our favorite rides out at Lake Atitlan! It is a technical beast but well worth the effort.
The trailhead starts at 2825 mts., about 1300 mts above lake level. We'll start with a few kms of climbing on a mix of singletrack, jeep track and dirt road to the highspot at about 3000 mts. From there the trail starts to drop fast and steep to the upper madre vieja river valley. Working our way along the lush river valley bottom we get to our next long climb. This one is a rough jeep track climb up and out of the river valley to our awaiting support vehicle and lunch. After a delicious, healthy and fresh lunch we'll hop back on the bikes and finish up the descent down into town on a stretch of tight steep trail that switch backs its way to the road just above Panajachel. This is a unique ride with lots of variation to keep you happy! Then we hop in a boat and transfer to our lakeside hotel which is accessed by boat only, Hotel Casa Del Mundo.
Meals included: Breakfast, Lunch, Dinner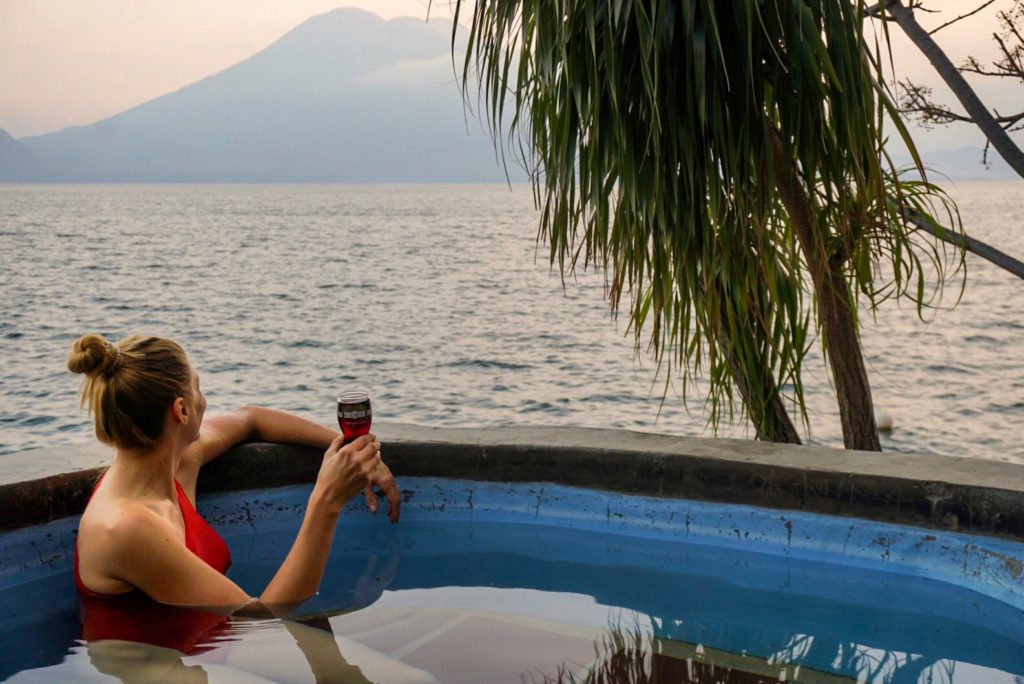 DAY 6: TRANSFER BACK TO ANTIGUA – LOCAL COFFEE FARMER EXPERIENCE
We willl enjoy breakfast and a relaxing morning at Casa del Mundo with plenty of time for a swim or hammock time. Around 11AM, we'll catch the boat back to Panjachel. From here will jump in the the private shuttle back to Antigua.
Once arriving to Antigua, we'll meet up with a local farm from De La Gente coffee for an insider look into local production and a full tasting.
After a short hike up Volcán Agua to see the
coffee fields, we will be invited into the
farmer's house to learn about and utilize the
machinery used to process coffee. But the
best part of all comes at the end when you get to roast coffee in the traditional Guatemalan way, over the fire, and share a fresh cup of coffee with the farmer and their family.
We'll finish up in Antigua for a farewell dinner and drinks to cap off a great week! Meals included: Breakfast, Lunch, Dinner
DAY 7: DEPARTURE
Breakfast is included in your hotel and then your departure shuttle to the airport will depend your flight time. We will leave Antigua approximately 3 hours prior to your depature to allow for travel and check-in.
Meals included: Breakfast