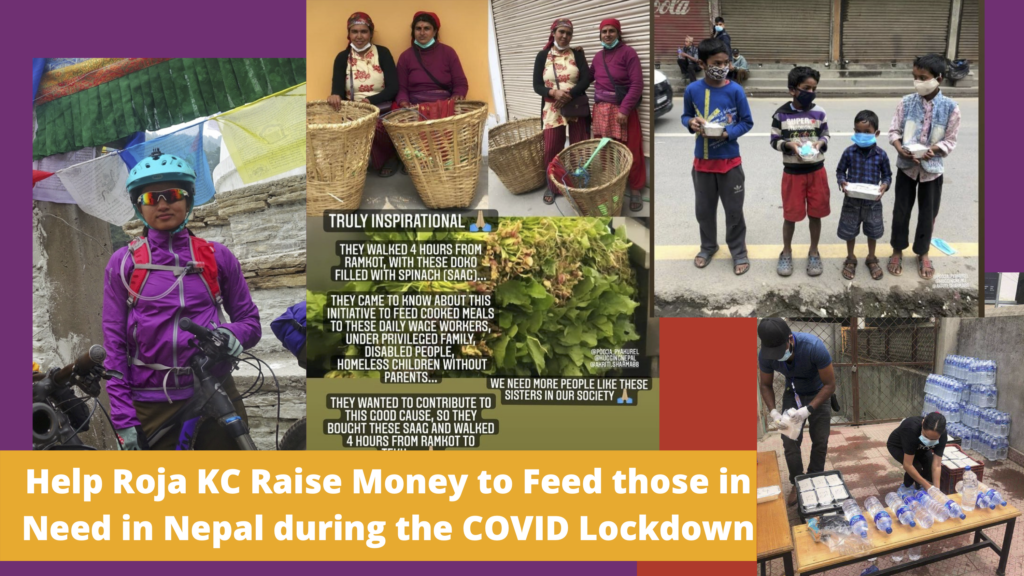 World Ride got contacted by our friend and guide Roja KC in Nepal to see if we could help her raise money for the people of Nepal. Her birthday is on May 20th and to celebrate it, she wants to raise $500 to help feed those in need in Nepal.
Here are Roja's words:
"The second wave have hit in Nepal and daily hundreds of people are dying due to covid . More than than , due to lockdown people who are needy ,daily wagers , homeless , disabled , children without parents are not able to earn the money for them and their family. It's even hard for them to have a meal for a day . Despite of covid , people may die more due to hunger and we don't want that . We may be privileged but those who are unprivileged need our support as a Nepali family . That's why I as a family to my Nepali people want to raise a fund for this social initiative. No one deserves to sleep hungry . Everyone deserves a meal . This high time of crisis we want to share the love towards our society by providing free meals , masks and water . For that we need your help .
Recently , i saw a post from one of my friends bibek (he volunteers in Khana Sabailai, they provide free food to daily wage workers , unprivilege families and so on) about two women , who walked for 4 hours(Ramkot to Teku )with a doko filled with spinach (saag) to help Khana Sabai Lai , they have inspired me to do something more for others as well. This year on the occasion of my birthday I'll want to do something thoughtful like them . I know I've been in the company of many loved one and i do pride about this alot ,so as a early birthday present i would like to ask you all to donate something to this charitable cause . Every human deserves to have a good meal . And together we can help numbers of families in this time of crisis
The main reason why I wanted to do is because of those two women. Who really touched my heart.
Also nothing is open due to covid . We only get to shop 3 hours a day for groceries. Except that everything is closed. It's been almost 10 days and the governor decided to extend it for 15 + days more . Everything is messed up ."
Please help support Roja's fundraiser. Every dollar raised will be donated directly to Nepal. World Ride will cover the cost of any fees incurred from the fundraiser and will be donating to the cause as well.
Thank you!