Are you interested in empowering women around the world through mountain biking? Are you social media savvy and looking for a creative and rewarding outlet? Are you a non-profit fundraising guru? Do you like challenges? Interested in going on a WR mountain biking trip? Looking to make more connections within your local bike community? Are you a supporter of World Ride and want to volunteer time towards helping us grow? If so, World Ride is looking for YOU!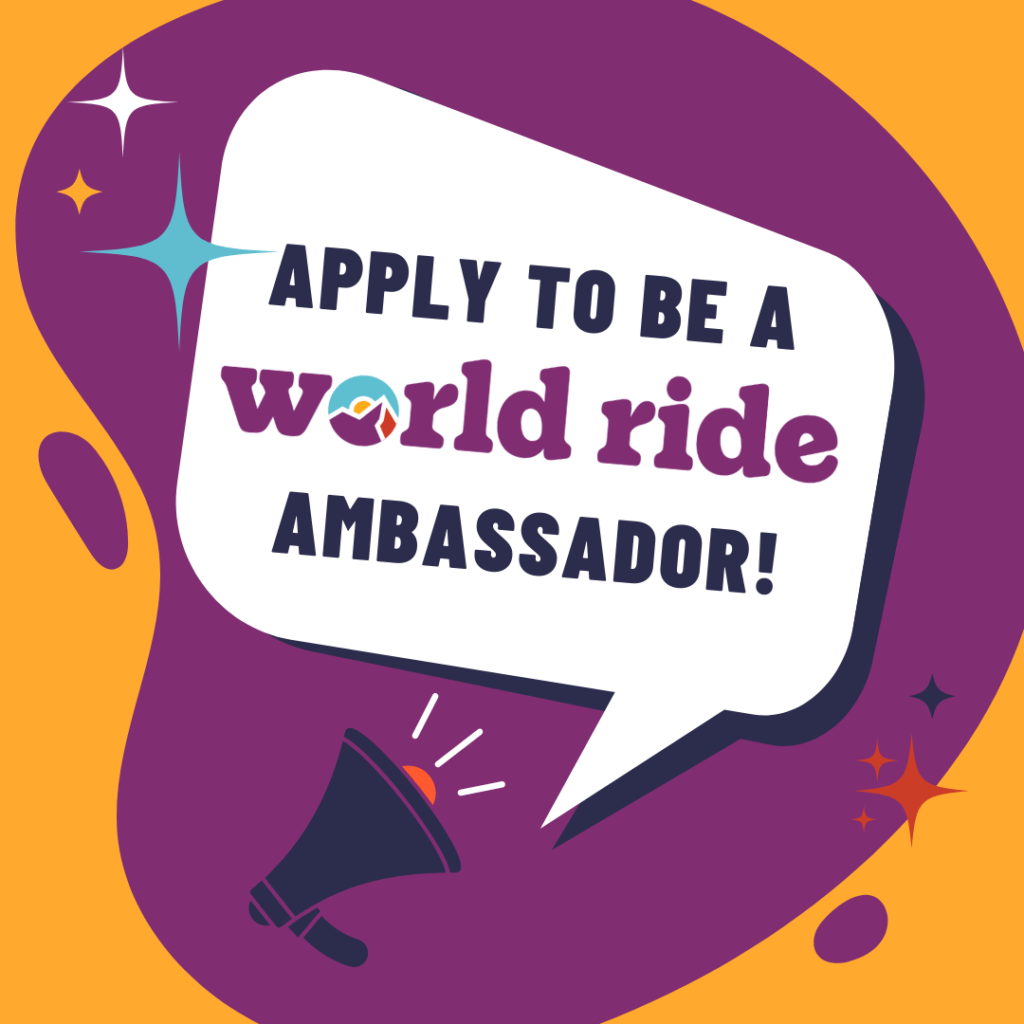 For its third year, World Ride is looking to a team of ambassadors from around the world to help us spread our mission! To keep growing our community, we have created new ambassador roles for this year: 
Brand Ambassadors: These ambassadorships focus on helping us spread the word of World Ride through in-person interactions and social media platforms. There will be a focus on using Instagram, however if someone wants to focus on in-person interactions or another platform, we are open to your creative ideas. Brand ambassadors will qualify for $100 off a World Ride trips and 20% off WR merchandise. Brand ambassadors are expected to participate in an initial kickoff meeting, they will receive ~monthly check-in emails with updates on the project, and offered virtual "open houses" several times per year where they can check in with WR leadership and get help with anything and/or ask questions. 

Strong Instagram presence (Posts in their stories and/or feed)

Willing to repost/share World Ride's content on your own Instagram at 2-4x per month. Content includes things like our fundraisers, stories about the women we support world-wide, local events taking place in the US, sponsor appreciation posts. 

Willing to create content for World Ride (take photos, create reels, etc.) that meets our brand guidelines and can be shared on our account; create 2-4 content items per year

Share World Ride with their bike communities (local group rides, Facebook bike groups, bike shops, etc.)

Potentially available to support events in their area (Sunset shreds, etc.) 

Chance at winning prizes through fun challenges throughout the year

Join World Ride's community forum

Attend kickoff meeting for the year and 1-3 check-in meetings 

Optional: Host a WR fundraiser 🙂 

10 spots available

Lead Ambassadors

: These roles require a bit more time, but can be rewarding to help you gain relevant experience in fundraising, content creation, and building community. Chance for quarterly rewards. Lead ambassadors will likely be asked to check in once a month with the WR board. Lead ambassadors will qualify for $250 off a World Ride trip and 25% off World Ride merchandise. Everyone is expected to attend an initial kickoff meeting, further time commitments mentioned with each role below. 

Trip ambassadors

: 

Commit to bringing 7-9 people (including self) on one of World Ride's trips in 2023 (all folks need to attend the same trip)

Trip options include: Nepal, Peru, Guatemala, Lesotho, and Botswana 

Trip organizers are required to create social media content while on the trip (Instagram stories, posts, reels, etc.) and share this content with World Ride with the intent that World Ride can use it on their social media pages and/or website to promote trips in the future. You will be asked to upload your videos and photos to a shared Google Drive. 

Trip organizer will be reimbursed with significant trip discount and potential flight reimbursement depending on the final headcount of their trip and upon delivery of content

People applying for this role are required to submit a video explaining why they feel they would be a good fit for this role and how they plan to create content for World Ride. If you are selected to move on to the final round, you will be asked to complete a video interview with members of World Ride's board of directors. During this final round interview, you will receive additional information about the opportunity. 

Looking to support up to 3 trip ambassadors this year. Trips can occur in 2023 or 2024. 

Social Media Content & Creation Lead Ambassadors 

Looking to gain experience managing a social media page and/or creating content?

Already familiar with a program like Buffer, using Instagram to create more advanced content like reels, or have a creative side and are looking to learn? 

3 positions available (2 for content creation, 1 for moderating/interacting) 

Need to follow brand guidelines

These ambassadors will have meetings 1-2x per month with the Social Media Board of Directors member and other members of the WR Forum and social media teams to learn about what's going on and to plan for upcoming posts 

How is this role different from a Brand Ambassador? For this role, it will be focused on creating and managing the content that is directly on the World Ride's social media channels based on what news and events are going on that month. Brand ambassadors are focused more on resharing and creating personal content on their own channels to help spread the word of World Ride with folks who are not already following World Ride. This one will require more time and will have more interactions with other members in World Ride. This position might also be good if you don't use your own social media that often, but want to help create content for World Ride's pages. 

Fundraising ambassadors

 

Directly help us keep World Ride going! Supporting our amazing 501(c)3, non-profit organization helps amazing women around the world! 

Funds raised will directly go to supporting women by: funding bike libraries, sponsoring guide and mountain bike instructor training (PMBIA), sponsoring bike clinics, and so much more!

Complete at least one virtual or one in-person fundraiser per calendar year, aiming to raise $500 over the course of the year 

Receive prizes from World Ride sponsors to use in your fundraisers as prizes 

Fundraisers that ambassadors have completed in the past: local Movie Nights using WR approved women biking films, Bike 101 for Ladies at a local shop, Miles for $$$ (riding a certain number of miles based on how money was raised over the course of one month)

Several virtual training sessions available at the beginning of the ambassadorship to learn more about World Ride and how to complete successful fundraisers. Additional fundraiser support materials will also be provided. 

Willing to share photos/videos from fundraisers with World Ride to share on their social platforms 

Time commitment: 1-2months of planning and executing of fundraiser 

Additional perks available once fundraisers are completed!  

10 spots available
Online Community Forum Ambassadors 

Have the desire to build up your bike community and help people connect with other mountain bikers? 

We need people to moderate a new online forum that's goal is to connect mountain bikers within their local communities and more 

Focusing on trying to get one person for each of these regions: East Coast US, Central & Mountain US, West Coast US, and International 

~1x per month meeting (might be more at the beginning as things ramp up) between moderators, social team, and Board of Director member to learn about what WR is doing to then disperse in their networks

Mods will:

Communicate what WR is doing on the platform

Look for behavior not meeting Code of Conduct

Pump up/interact with folks 

Help come up with and run events on the online forum aimed at connecting and celebrating users 

Mods are expected to be checking on the forum multiple times per week (hoping it can be as seamless as checking other social media sites)
Graphic Designer

We have a lot to share with the world and we need your help! Looking for someone who can help create new graphics for our website, social media pages, apparel, etc.  

Experience creating visuals, graphic design background 

Design/update WR merchandise

Design trip/event announcement graphics that will be shared on Instagram, Facebook, and the community forum 

Need to follow WR's content guidelines

~1-2 items created per month

Check-ins monthly with a Board of Director Member
What will you get out of being an ambassador??
Discounts and possibly goodies from our sponsors (To be announced soon!)

Discounts and possibly goodies from World Ride

Discount on one World Ride trip per year

A network of amazing ambassadors from around the world

Ability to meet and plan trips with other ambassadors

Warm and fuzzies from knowing you are helping women around the world develop their own love for biking too! 
Applications are now open. The deadline for applying is February 17, 2023. Get in touch if you have questions about our ambassador program or join one of the scheduled info sessions to ask questions with our amazing Ambassador Director Tina!
Ambassador Zoom Info Sessions:
Thursday, Jan 19th at 8PM EST 
Tuesday, Feb 7th at 8PM EST