Trip Overview
Enjoy the rich culture of the Sacred Valley in Peru on this 7 day mountain biking adventure.
You will ride challenging singletrack through the Andes and have the chance to visit Machu Picchu, one of new 7 wonders of the world.
Not only will you be supporting the local economy in Peru with the purchase of your trip, but you'll be support local women mountain bikers too!
Trips are coed unless noted. The minimum for this trip is 4 people.
Fitness level:  ● ● ● ○ ○
Skill level:  ● ● ● ● ●
2024 Peru Trip Dates 
May 5-11, 2024
June 2-8, 2024
September 15-21, 2024
Don't see a date that works for you? Contact us for custom trip dates!
Price – $1,995
Book more than 90 days in advance and get a pair of World Ride Peru socks and a hat! 
$300 non-refundable deposit is required to hold your spot
*Deposits are non-refundable and can be put toward any other World Ride trip in the future.
The remainder of the cost of the trip is due 60 days prior to the start of the trip and can be made in payments. Trips require a minimum of 4 people in order to run. Please check with us to confirm the departure before you book your flight. 
Unless otherwise noted, our trips are co-ed. Here is why that is important to us. 
We can make any trip a private group trip for an additional $100-250/per person, depending on the size of the group. Please reach out to [email protected] to book a private trip. 
Fundraise for your trip! We can set up a personalized fundraising page for you. We offer $100 off your trip costs for every $1000 that you raise, up to the cost of the trip. 
Invite your friends to join you as well!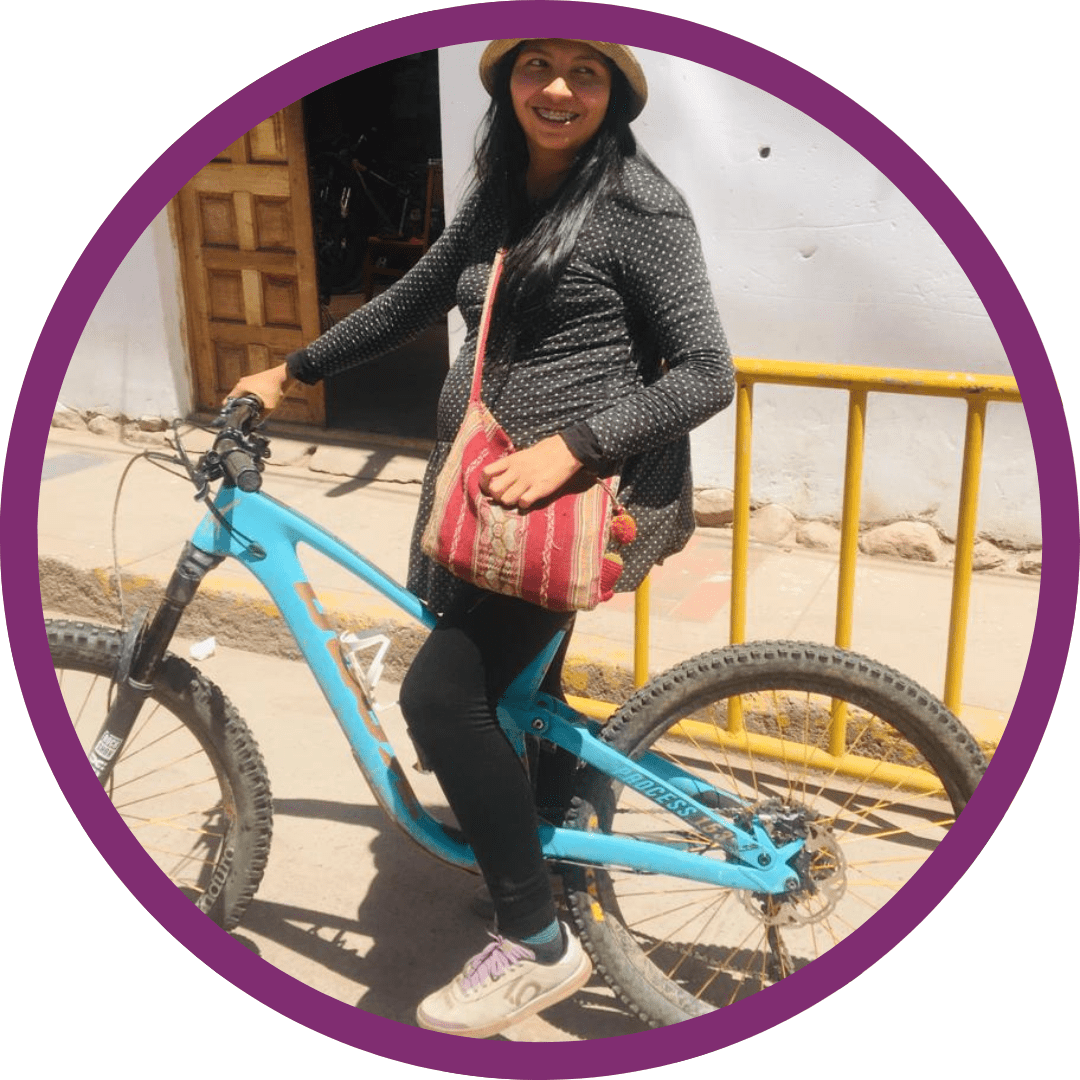 Meet Your Local Guide in Training: Claudia Rosalia Ortiz Rodriguez
Claudia has been mountain biking for 12 years and loves riding on the steep, technical trails of the Sacred Valley. After applying to train as a World Ride guide, our team got to meet her in person. We knew she would be a great fit for the team and are excited to have her training as our guide in Peru. Claudia had a baby in late 2022 and will be getting back on the bike and training on our 2023 trips.

Day 1
Arrive Cusco, transfer 2 hours to Ollantaytambo, build bikes, afternoon ride "Cacchicata", about 1000 feet of climbing dirt road/singletrack, awesome lookout above and over Ollantaytambo with countless Inca sites visible, nice descent by the river back down to town, total distance around 6 miles.
Day 2
Morning ride "Pumamarca", drive up and outside of town about 1500 feet vert to Pumamarca, a preIncan ruin, with no tourists. Check it out on foot if desired, after is a wicked fun descent right back to town on some exposed singletrack. Lunch at restaurant in town. Afternoon ride to "Salt Mines and Moray".  There are multiple versions of this ride. Approx 2000 feet of descending, 300 feet of climbing, over a little under 10 miles- super fun riding.
Day 3
Morning ride "Inca Avalanche", nearly 5000 feet from top to bottom.  Either once, twice, or one and a half times. Lunch at restaurant in town. Afternoon riding in the Salt Mines/Moray/"Paucarbamba" zone.  Same as yesterday, around 2000ft of shuttle descending, virtually no climbing.
Day 4
A ride known as "Calca" or "Lares", similar to Inca Avalanche, start at high pass at nearly 15,000 feet, drop down a beautiful grass Inca road at the perfect incline angle, turns into singletrack in narrow canyon with Inca steps and 1000+ year old mummies.  One of our best rides. Approximately 5,000 feet of descent over around 12 miles. After, back up to "Salt Mines/Moray" zone for more of that fast dry low singletracks.
Day 5
Machu Picchu. Roundtrip train from Ollanta, 6am to 6pm. * See note below for details about Machu Picchu day.
Day 6
Typically we do a ride today called "Lamay"  and "Lamay 2", similar to Calca, but with more flowing singletrack. This is also our 'flex' day, which means it can be changed based on how everyone is feeling.
Day 7
Flexible day- either ride or sightseeing around Cusco.
*Itinerary is subject to change.
Comfortable accommodations the heart of the Sacred Valley.
Breakfast at the hotel each morning.
All transportation to and from Ollantaytambo and for all rides.
Professional local guides that know the trails and have an excellent knowledge of the local culture and traditions.
Support on the trails with a shuttle vehicle.
*Due to the logistical challenges, Machu Picchu is not included in the cost. We have found that it is much easier for trip participants to book their train ticket to be able to make changes as needed. We will provide all of the needed information and help you get this booked. The cost of this part is approximately $225.
Meals (aside from breakfast) and guide gratuity are not included. Cost does not include airfare, souvenirs, alcoholic beverages, travel insurance or rental bike.
Rental bikes are very limited. For this trip, we highly recommend that you bring your own bike! We have a lot of experience traveling with bikes, so please let us know what questions that you have. This trip is on technically challenging trails at high elevations and we highly recommend a full suspension bike.
We know you might want to arrive early or stay longer in Peru. We can connect you with our trusted partners to help book any additional tours or hotel stays- just get in touch! 
Anything you need for your own bike if bringing
Derailleur hanger
Extra brake pads
Any special bike tools -Multitool, mini pump, spare tube
Bike gear
Helmet (we highly recommend a full face helmet for this trip)
Sunglasses (or goggles)
Buff/scarf
Pack (at least 15L in size to carry layers and capacity of 3L of water)
Bike shoes
Gloves
-3-4 pairs of bikes shorts or more depending on preference. (There are laundry services in Ollantaytambo that take a day or two to get your laundry back to you)
-3-4 jerseys
Socks
Long sleeve base layer
Waterproof rain jacket
Other gear
Warm jacket (the nights can be chilly)
Either a bike light or a headlamp
Other clothing for after ride
Comfortable shoes to hike and walk around in
Clothes to sleep in
Swimsuit
Any medication you might need
Toothbrush and other necessities
Sunscreen
Personal items
Passport
COVID-19 Vaccination card
Proof of travel insurance if you purchased it
Credit and debit cards
A small amount of cash to travel with
Camera (or just your cell phone)
Cell phone (plenty of wifi along the way)
USB Battery pack (optional- there are outlets in all of the hotels)
Electronics cords and chargers
Power adapter for outlets in Peru (which are 220v)
Any extra mountain bike gear you might be able to collect for the ladies over there 🙂