EVEREST BASE CAMP TREK
This trek is designed to cater for the budget travel, but afford you the safety and cultural value of having a guide with you. You have the freedom to choose your own lodging and fooding, whichever suits your budget.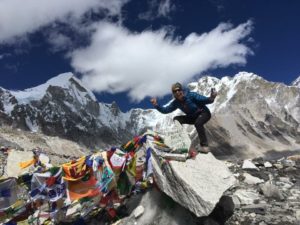 Day 01:  Arrival in Kathmandu (1,350m/4,428ft)

On arrival we transfer to the Hotel. Take some rest after the flight

Day 02:  Kathmandu Free Day

Take a day to rest and recover from your flight, meet with your guide, trip briefing and gear check for the trip.

Day 03: Fly to Lukla, trek to Phakding (2,651m/8,700ft): 40 minutes flight; 8km, 3 – 4 hours trek

We take an early morning flight to Lukla which is the gateway to the Everest Region. Here we meet our porters if you are hiring them. We walk on a trail that gradually descends to Cheplung village from where we get a glimpse of Mt. Khumbila, a sacred mountain which has never been climbed. From here, we gradually descend until Phakding.
Overnight in Phakding.

Day 04: Phakding to Namche Bazaar (3,438m/11,280 ft): 11km, 5 – 6 hours

Our trail passes through a pine forest and we continue our walk on the trail that goes north up the Benkar valley. We cross Dudh Koshi River and pass Chumoa and Monjo villages before reaching the entrance of the Everest National Park. Then after crossing a suspension bridge, we pass Jorsale village and walk alongside of the Dudh Koshi and Bhote Koshi rivers. We ascend on a steep trail and reach Namche Bazaar which is probably the biggest town in the Everest region. Overnight in Namche Bazaar.

Day 05: Acclimatization Day – Namche Bazaar: (3,440m/11,284ft)

We can tour Namche Bazaar which is the primary town of the Everest or Khumbu region and has government offices, ATMs, internet cafes, shops, restaurants, and a colorful market. We can hike-up to Sagarmatha National Park and enjoy the sunrise over the Himalayas including Mt. Everest, Lhotse, Nuptse, Ama Dablam, Thamserku, Kongde and so on. If we are interested in a day hike, we can trek to Khumjung village. Today we also visit the Hillary School and a monastery which houses a yeti scalp!  Overnight in Namche Bazaar.

Day 06: Namche Bazaar to Tengboche (3,870m/12,694ft): 10km, 5- 6 hours

The trek until Phunki is an easy walk. From here we ascend towards Tengboche village which houses the very famous Tengboche monastery which is the biggest monastery of the Everest region. It is located within the Sagarmatha National Park which is a UNESCO World Heritage Site. The monastery is blessed with panoramic views of the Himalayas, including Mt. Everest, Nuptse, Lhotse, Ama Dablam and Thamserku. The Tengboche Monastery opens at 3:00pm, so if we reach there by 3 o'clock we can observe a Buddhist religious ceremony. Overnight in Tengboche.

Day 07: Tengboche to Dingboche (4,360 m/14,300 ft): 9km, 5 – 6 hours

Our trail descends and passes through lush forests of birch, confer and rhododendron trees. While trekking we can admire good views of Mt. Everest, Lhotse, and Ama Dablam. We walk downhill to Debuche and cross the Imja River to reach Pangboche. We choose the upper Pangboche trail and admire the Himalayan vista and the Pangboche Monastery. We continue our walk to the Imja Valley and Lobuche River before ascending to Dingboche. It is a picturesque village with beautiful barley, potato and buckwheat fields complete with grazing animals dotted along those fields.

Day 08: Dingboche: Acclimatization

From Dingboche we can hike up to Imja for acclimatization, It's a nice hike through Yak Pastures to the base of the Imja Peak.
Overnight at Dingboche.

Day 09: Dingboche to Duglha (4,600 m/15,090 ft): 4km, 3 – 4 hours

A short day, but essential for acclimatization. We have reached the high valley and will be surrounded by mountains as we trek today over a pass and up to Dughla which is a small village at the bottom of the Duglha Pass
Overnight in Duglha.

Day 10: Duglha to Lobuche (4940 m/16,207 ft): 4km, 2 – 4 hours

We ascend to the steep terminal moraine of the Khumbu Glacier. The trail passes through boulder-strewn slopes as we ascend Chupki Lhara which is a ridge that provides spectacular mountain views. The top of the ridge is filled with prayer flags and stones which are memorial shrines for climbers who lost their lives on Mt. Everest. As the trail drops to the Khumbu Glacier moraine, we find ourselves facing several great peaks including Khumbutse, Lingtren, Pumori and Mahalangur Himal. As we are crossing Khumbu Glacier we can also see Mt. Nuptse. Overnight in Lobuche.

Day 11: Lobuche to Gorak Shep (5170 m/16,961ft), visit Everest Base Camp (5364 m/17,594 ft): 13km, 6-7 hours

A long day in the altitude as we head for Everest Base Camp. It's a gentle ascend and descent, but first we have to climb up the Tuckla Pass. Everest Base camp is our final destination, from here you can see views of Nuptse and Pumori as well as the Ice Fall. Hike back to Gorak Shep.
Overnight in Gorak Shep

Day 12: Gorak Shep to Kala Patthar (5,545m/18,192ft) to Pheriche (4,288m/14,070ft): 16km, 7-8 hours

We wake up early for the walk up to Kala Patthar. It is dark outside with cold temperature and most likely chilly winds.  We walk on a fairly steep trail at a comfortable pace. As we are climbing up the hill we can see Lingtren, Khumbutse, and Changtse mountains. The view from the summit is outstanding. We can see the world's tallest mountain Everest along other mighty Himalayan peaks. After this we have the options to carry on the Everest Base Camp if you did not get there the day before and then return to Pheriche. It's a long day.
Overnight in Pheriche.

Day 13: Pheriche to Namche Bazaar (3,440m/11,280 ft): 20km, 6 – 7 hours

A long undulating walk as we head back into the tree line of Juniper and Rhododendrons. Get our last views of the mountains before we reach to Namche.
Overnight in Namche Bazaar.

Day 14: Namche Bazaar to Lukla (2,860m/9,186ft): 19km, 6 – 7 hours

Follow the Dudh Koshi back to Namche. It's' mostly downhill. Chill out in Lukla.
Overnight in Lukla.

Day 15: Fly to Kathmandu

Fly back to Kathmandu in the morning. A day to spend relaxing in Kathmandu, shopping, sightseeing or getting a massage.

Day 16: Departure

We transfer you to the airport for your homebound flight.
Price includes – Airport Transfers, Guide, Flights to Lukla and back, Permits.
In the case of Meals and Accommodation – it will included for the duration of the trek, twin sharing teahouses and 3 meals per day.
Options:
Budget: $975/person (based on a 4 person minimum)
Price includes airport transfers, guide, flights to Lukla and back, permits. Does not include accommodations, porter or food. You can estimate $35-$50 per day for food and accommodations.
Budget + Porter: $1275/person (based on a 4 person minimum)
Price includes airport transfers, guide, a porter to carry your gear (lighten the load by only carrying your day pack), flights to Lukla and back, permits. Does not include accommodations, or food. You can estimate $35-$50 per day for food and accommodations.
All Inclusive: $1975/person (based on a 4 person minimum)
Price includes airport transfers, guide, a porter to carry your gear (lighten the load by only carrying your day pack), flights to Lukla and back, all accommodations, 3 meals per day, and permits.
We are booking custom dates for the 2018 season, so get in touch to inquire about the dates you are interested in! Even if you don't have the minimum for the above pricing, we can try to match you with other guests or give pricing for smaller groups.